Santa Rosa
Santa Rosa is located just about 55 miles north of Belvedere, and there are so many fun activities waiting for your arrival. Located just outside the heart of wine country, the city has an abundance to offer from shopping, dining, recreation, and so much more. Read on to get a list of must-do activities while in Santa Rosa.
Safari West
3115 Porter Creek Road Santa Rosa, California, 95404

Take the kids to the heart of wine country to discover the wildlife of Africa at Safari West. The safari is home to nearly 900 animals and over 90 unique creatures that roam through the 400-acre preserve. At the safari, your kids will have the opportunity to get up close and personal with some of Africa's most majestic animals including rhinos and giraffes. They also have the chance to see the amazing herds of wildebeest, dazzling zebras, and even those adorable-looking lemurs. If the drive there and back is not enough to wear the kids out alone, then the Safari West should do its part in getting the job done.
Jack London State Historic Park
2400 London Ranch Road, Glen Ellen, CA 95442

Named after the famous author of Call of the Wild, Jack London, this park holds rich history about Jack himself, as well as offers beautiful sights of landscaping and nature. Pack a lunch in a cooler, and take the family on a short hike or walk. Enjoy a picnic at one of the park's areas, Oak Grove or Terrace. Picnic tables are located throughout the park including at the Wolf House Ruins, The Cottage, and the knoll just above the ranch parking lot.

There's also the opportunity to visit some historic buildings while visiting the park. Some of those buildings include the House of Happy Walls Museum, Jack London's gravesite, The Wolf House Ruins, Jack's Cottage, The Beauty Ranch, and the lake. Each of these buildings and areas holds a rich history of Jack London's life, and you will have the chance to learn more about him while visiting. If you aren't sure what will interest you or where to start at the park, you can also book a tour with a guide and allow them to show you the property.
Kendall-Jackson Wine Estate
5007 Fulton Rd, Santa Rosa, CA 95403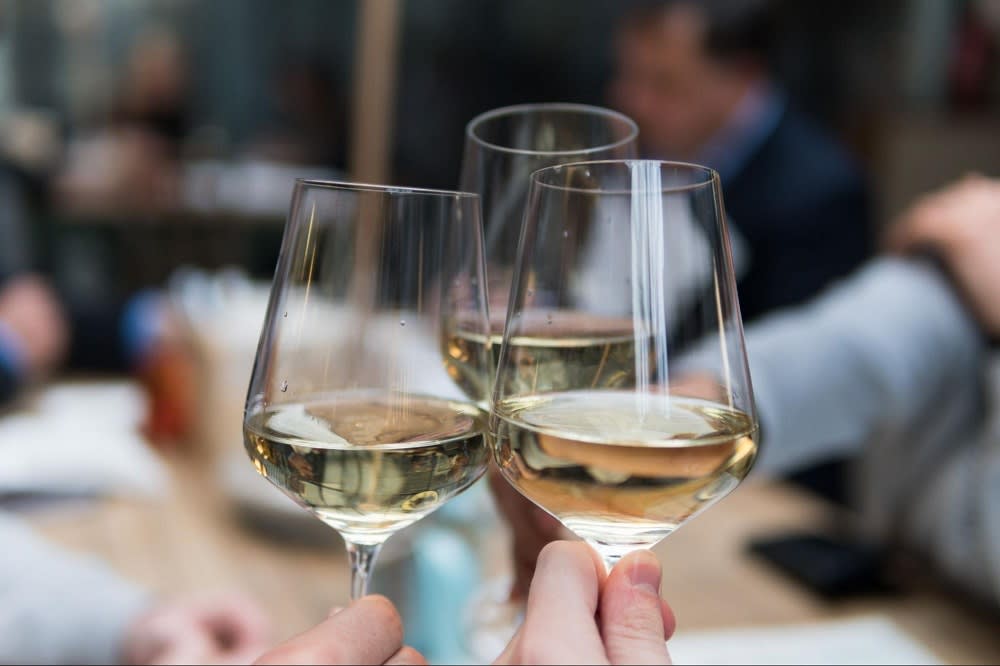 Leave the kids home for a day, and plan a trip together to the Kendall-Jackson Wine Estate. Located in the heart of wine country in Sonoma County, this family-owned winery is the perfect day's date getaway. A friendly staff awaits you ready to offer their stellar service in wine tastings, pairings, and tours of the vineyards. Kendall-Jackson Wine Estate offers different options for tastings. Some of those options include Estate Tasting, Garden and Tour Tasting, Bocce, and Picnic.

Take your wine experience to the next level by booking a table for two and enjoy some of the best red and white blends with the Executive Chef's specialty dishes. You may also like a curated selection of local cheeses, charcuterie, and accompaniments as add-ons to your tastings. Don't forget to purchase a bottle on your way out before heading back home.
Eco-Friendly Synthetic Skating Rink
Old Courthouse Square, Santa Rosa, CA

The holidays are here which means family fun and holiday cheer! Located at Courthouse Square in downtown Santa Rosa is the Eco-Friendly Synthetic Ice Skating Rink. This will be a family fun opportunity to get into the holiday spirit and enjoy holiday festivities. Tickets cost less than $10 and include a 45-minute session and skate rental. However, visitors are welcome to bring their skates. So, take the day to get all of that last-minute holiday shopping out of the way and end the evening with a family fun ice skating session.
San Mateo
Located 35 miles south of Belvedere, San Mateo is the bridge that connects San Francisco to Silicon Valley. The city offers the sophistication and charm of small towns and family-friendly activities. Having a day trip here will have you end up at a fine dining restaurant, special events, attractions, forest escapes, and so much. Below is a list of activities to try if you are planning a day trip to San Mateo.
Curiodyssey Museum and Zoo
1651 Coyote Point Drive, San Mateo, CA 94401

At Curiodyssey Museum and Zoo, your kids have the leisure of letting loose as they get up close and personal to observe and learn about some of the most unique animals. The museum offers education programs where kids can participate in science workshops, animal programs, and self-guided field trip visits. There are also a variety of exhibits to visit where you and your kids can observe, touch, listen, and learn about the surrounding areas. Curiodyssey Museum and Zoo is an attraction for all ages and where science meets fun. So, if you plan a day trip with the kids tagging along, consider this attraction for you and them to enjoy together.
Coyote Point Recreation Area
1701 Coyote Point Drive, San Mateo, CA 94401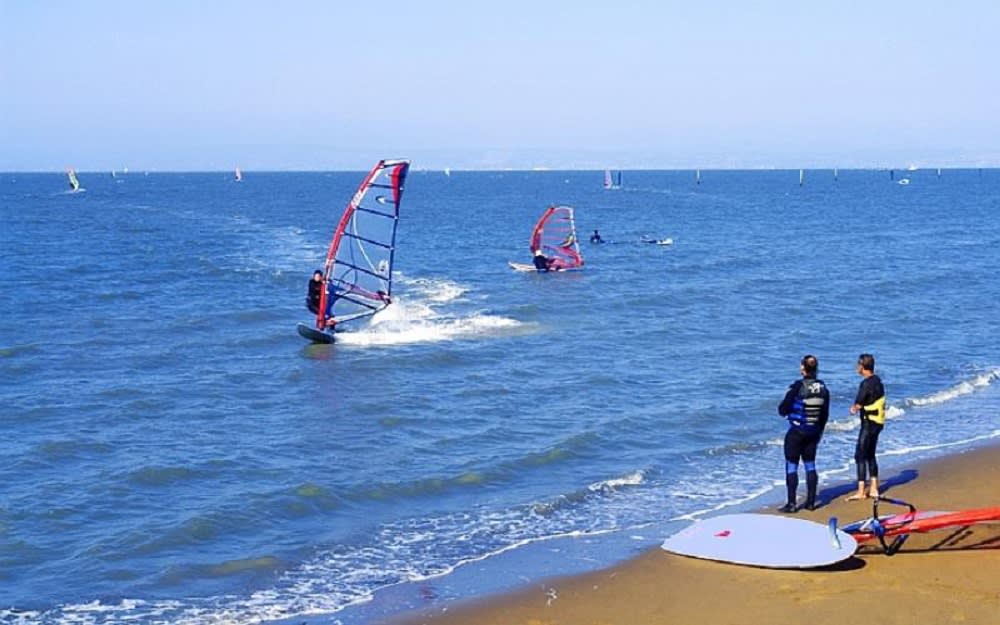 Credit: Coyote Point Recreation Area

If you visit Curiodyssey Museum and Zoo you might as well take a break from the overload of science information, and have a quick lunch or picnic at Coyote Point Recreation Area. The property sits on at least 670-acres of land and offers many attractions and activities including swimming, windsurfing, fishing, boating, sailing, and so much more. The kids will also enjoy the giant, castle-and-dragon-themed Magic Mountain Playground while there. If it's just you and your significant other, take a romantic walk along the beach promenade, visit the marina, or explore the saltwater marsh, and while in the process catch a view of shorebirds, vibrant boats, windsurfers, and even planes flying in and out of the San Francisco International Airport.
The Japanese Garden at San Mateo Central Park
East 5th Avenue and El Camino Real, San Mateo, CA 94401

The Japanese Garden at San Mateo Central Park is one of the finest in all of California. It was designed by Nagao Sakurai, a landscape architect from the Imperial Palace of Tokyo. The garden features a granite pagoda, tea house, koi pond, and bamboo grove. The Japanese Garden is beautiful to visit all year round, but it's most popular during late winter and early spring when the Cherry Blossoms are in full bloom. This could be the perfect romantic day trip to consider if you're looking to get away for a little while.
Seal Point Park
​​1901 J. Hart Clinton Drive, San Mateo, CA 94401

Located within Shoreline Parks, Seal Point Park offers a variety of recreational experiences along the San Francisco Bay. The park includes various pathways for walking, cycling, bird watching, and a 3-acre dog park for your furry friend to run around and burn some energy. You can also take a stroll by the boardwalk along the Bay Marshes where you will find many species of wildlife including the California Clapper Rail, which is considered to be an endangered species. Seal Point Park is the perfect day trip getaway if you are looking to reset and rejuvenate your mind, body, and soul as you get ready for a new work week.
San Jose
If you're looking to plan your next big day trip with the family then San Jose needs to be your next stop. It's the perfect location to burn energy and relax between trips from the coast to the mountains. Whether you are getting outdoors for a hike or to explore fine dining, shopping, or sightseeing, San Jose will not be a disappointment. Below is a list of must-do activities while there.
Winchester Mystery House
525 S Winchester Blvd, San Jose, CA 95128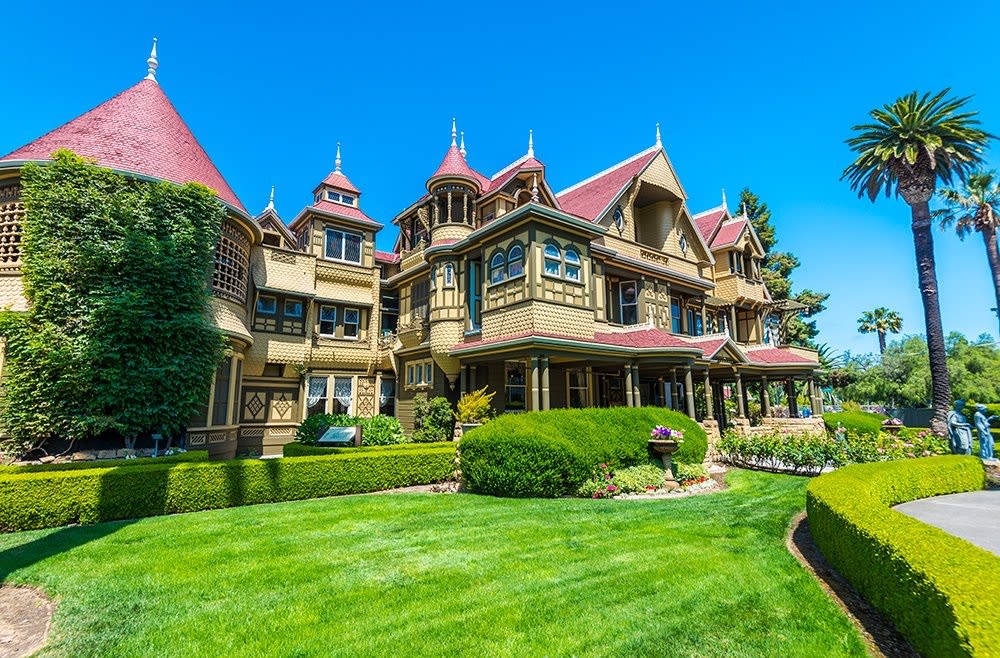 Credit: Winchester Mystery House
This is nowhere near connected to the Winchester Brothers, Sam, and Dean, of Supernatural, however, the concept could remain the same. If you love doing escape rooms or solving mysteries, show off your inner detective skills at the Winchester Mystery House. The beautiful and Victorian mansion was built by Sarah Pardee Winchester in 1884. Sarah was the heiress of the Winchester Repeating Arms Fortune.

Haunted by the guilt of those lost to the Winchester Rifle, she constructed the mansion with many strange mysterious features as doors open to walls and stairways that lead to ceilings. The question remains, was Mrs. Winchester really haunted by ghosts or demons, or was she simply into architecture and had a great appreciation for buildings? That of course would be up to you for determination. The Winchester Mystery House offers guided tours daily where guests will have the opportunity to explore and unlock the secrets of the strange mansion.
Happy Hollow Park and Zoo
748 Story Road, San José, CA 95112

Happy Hollow Park and Zoo is the perfect family fun attraction while visiting San Jose for a day. The property sits on 16-acres of property and has many popular features such as its carousel, roller coaster, petting zoo, and Puppet Castle Theater. You all will see many animals including jaguars, lemurs, meerkats, and goats. Happy Hollow Park and Zoo are great for education and fun. Don't forget to stop by the Learning LODGE to check on any camps or upcoming classes just in case you decide to return for another fun weekend.
Interested in Belvedere real estate?
If you are moving to the area and need a Belvedere realtor, contact The Sarkissian Bullock Team at Golden Gate Sotheby's International Realty today.