Breathtaking vistas right outside your door


If you love nature and have a great appreciation for the outdoors, then you will love what Marin County has to offer. Marin County is known for its natural beauty along the coast, mountains, and valleys. Everywhere you look, you're surrounded by natural beauty and landscaping. Streams and waterfalls of Mount Tamalpais dominate the county throughout the Redwood forest and madrone trees. What makes this natural beauty so attractive to locals is that there is so much that comes with exploring it all.

The county is surrounded by plenty of beaches, including Agate Beach Park, McNears Beach Park, Stinson Beach, and many more. There are also a variety of parks and recreation areas to go camping including Marin Headlands, Mount Tamalpais State Park, Point Reyes National Seashore, and many more.

There are many locations in Marin County to enjoy a great day of fishing. Some of the most popular locations include China Camp State Park, which is located on San Pablo Bay, and McNear's Beach Pier, which is located on the east side of San Pablo Bay and San Rafael. Other great exploration opportunities of Marin County's natural beauty include hiking, walking trails, kayaking, and discovering wildlife.
A mild climate that is perfect for heading outdoors
Marin County has some of the best weather all year round. Known for its mild and Mediterranean climate, temperatures can range from warm during the day and cool in the evenings. During May through October, the average daytime temperatures can be in the 70's with no inclement weather. Then November through April, temperatures can average in the '60s, but during this time can also be their rainy season. As it starts to cool down in the evenings, temperatures can fluctuate between the '40s and '50s. Very rarely do the temperatures briefly drop below freezing.

On average, rain falls about 44 days per year, with an average of 37 inches hitting the ground. If you're wondering about winter and snow, it is very rare for Marin County to get a light dusting. The only place you will likely find it is in Mount Tamalpais above 2,000 feet with a light covering, which occurs every few years.

In Marin County, residents get an average of 270 sunny days per year. During the summer months, high inland temperatures can create marine layers of fog just right off the coast to help bring cooling temperatures to the Bay Area. On days with weather such as this, the fog spreads through the mountains and small towns, creating a beautiful sight to behold and the perfect Instagram pic of the day.

The mild weather in Marin County is perfect for any outdoor activity, including walking, biking, or hiking, but it's also perfect for planning a visit to the Mediterranean Gardens. At the gardens, you'll find a wide range of plants, including palms, bougainvillea, roses, citrus, fruit trees, and succulents.
Small, welcoming communities with a close-knit feel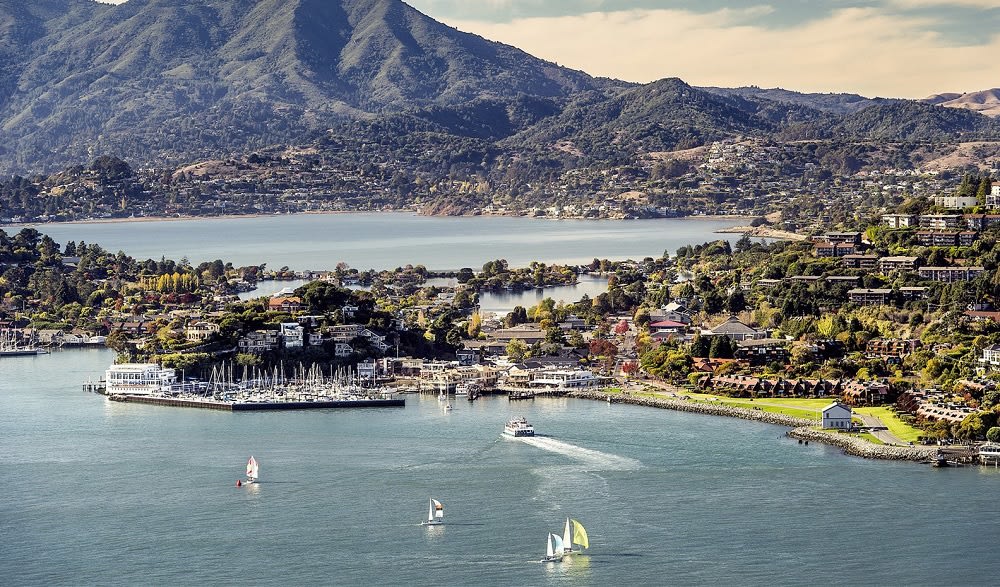 Credit: townoftiburon.org

There are many things to consider when settling down to starting a family — the cost of living, school systems, neighborhood ambiance, accessibility to recreation. The list goes on and on. Marin County continues to be beloved by families for its welcoming atmosphere, robust local amenities, and high-quality schools. Take a closer look at a few of Marin County's beloved communities.
Belvedere and Tiburon
Residents of Belvedere and Tiburon create a culture that values staying active and enjoying the surrounding areas the small town has to offer. Located about 16 miles from San Francisco, fair weather encourages everyone to get outdoors to enjoy recreational activities and many other attractions. Both towns have a combined population of about 11,278.

Belvedere and Tiburon are known to have the most secure and safest neighborhoods, top-rated schools and districts, and a plethora of extra-curricular activities. The towns are described as one of the most desired and luxurious by residents, and when considering a property of purchase, prices can come with quite an expensive tag, but it is worth it because, after all so much to love about this area.

There is plenty of fitness and outdoor recreation activities to do. There are great neighborhoods and schools to enroll your kids into. And if you're not completely sold yet on settling, San Francisco is just a ferry ride or quick drive away if you're looking to get out of town and explore the big city.

Locals in Belvedere and Tiburon are very friendly and open to newcomers, and around both towns, there is never a dull moment, and there is plenty to do. Some local favorites include the Tiburon Yacht Club, Corinthian Yacht Club, Angel Island, Hippie Tree, San Francisco Yacht Club, Old St. Hilary's Historic Preserve, Fishbits' Trail Trailhead, and the Tiburon Historical Trail.
Ross and Kentfield
The towns of Ross and Kentfield are fantastic places to start your family and raise your children. Both towns are close to hiking trails and provide quick and easy access to San Francisco. Kentfield has a population of 7,020, while Ross has a population of 2,290 residents. One of the main reasons residents love living in these areas is because of the peace and privacy each has to offer. While you won't find any major commercial shopping complexes, you will find a wide range and significant amount of locally-owned shops, restaurants, essential businesses, and much more. The schools in both Ross and Kentfield are also rated to be some of the best in the county, so you won't have to worry about sending your kid off to a below-average school district.

Ross and Kentfield offer a relaxing and calming environment for all residents, with many homes hidden in the hills, off windy roads, and behind lush gardens and cascading greenery. If you're ever visiting Ross and Kentfield and considering scouting out the place, be sure to check out Busy Bees children's clothing store.

If you like to consider yourself a foodie, you may also want to check out Sam the Butcher Contemporary Art and the Woodlands Market Store. As a newcomer to Ross and Kentfield, you'll learn to value your free time in places such as Tucker Cutoff Trail, Pixie Park, Phoenix Lake, Natalie Coffin Greene Park, Cascade Fall, and many more outdoor parks and recreation areas.
Larkspur and Corte Madera
Larkspur and Corte Madera are well known for being family-friendly towns that offer many attractions and a wide range of family activities. From their extraordinary dining and shopping to outstanding schools, both towns are perfect places to settle and raise your small family. As of today, Corte Madera is home to more than 9,000 residents, while Larkspur has a population of 12,319.

Residents of Larkspur and Corte Madera love living in their areas because of the fine and vibrant dining of restaurants and fun places to shop. Another reason to love the areas is because of how small the communities are, making them perfect for raising a family. They also love the areas because there are plenty of parks to go to and places to go hiking.

In Corte Madera, you'll find great places to shop, such as The Village and Town Center. One of the best spots to go for a hike is Ring Mountain. It's known to be a very peaceful and beautiful hike of the area. Residents of Larkspur and Corte Madera are lucky to have a fair balance between activities and leisure. Even though there are major and big cities close by or just a ferry ride away, there are a variety of places to enjoy nature on both land and water.

Those who want to get outdoors of Larkspur love to go to places such as Piper Park, Down Falls Trailhead, Blithedale Loop Trailhead, and Dolliver Park. And for the residents living in Corte Madera, some fun favorites include Corte Madera Town Park, the Tiburon Ridge Open Space Preserve, and the Phyllis Ellman Trailhead. Other great towns and neighborhoods to reside in are Mill Valley, Stinson, Sausalito, and San Rafael.
Moving to Marin County?
If you are moving to the Marin County area, contact Sarkissian Bullock Team at Golden Gate Sotheby's International Realty today. This team of consummate professionals can help you navigate the Marin County real estate market, whether you're browsing Belvedere and Tiburon homes for sale, Ross and Kentfield real estate, or considering moving to Larkspur and Corte Madera — and beyond!
*Header: 2800 Paradise Drive, Tiburon, CA