One of Marin County's most picturesque areas is Belvedere, a stunning community that spans two islands and a beautiful lagoon. Belvedere is one of the highest-income cities in California, and with sweeping views of the San Francisco Bay and the Tiburon Peninsula, it's no wonder why it's such a desirable place to live. 

If you're considering purchasing a waterfront home in Belvedere, there are several things to research before you dive in. We've compiled a guide of things to know before you make the move to a home on the water.
1. The property is just as important as the actual home
You'll certainly want to make sure that you find a house you love, but the oceanfront property is just as important — if not more important — than the actual physical structure. Homes can always be updated, even if you're looking at a total renovation. Exteriors can be altered, doors and walls can be painted, and bathrooms and kitchens can be completely redone. When it comes to your waterfront location, however, what you see is what you get! There's no way to alter the coastline or the view.

Pay close attention to the waterfront property's location when you arrive for a tour or open house. Views from Belvedere can be truly breathtaking, but make sure it's exactly what you want.

Take some time to walk the property with your real estate agent, asking any questions you might have. You may have questions regarding any weather conditions they face, which, in the San Francisco Bay Area, can change from hour to hour! It's always good to have an idea of what life at a new home will entail, especially since you will be responsible for the upkeep of the property. You'll want to be prepared for any type of maintenance you'll be required to handle as you keep the home looking great for years to come.

You'll also want to ensure that this is a home you can feel comfortable living in. As you start your research into waterfront Belvedere homes, make sure to come up with a solid list of questions to guide you. Would you prefer that your home come with a boat dock? What type of view are you hoping to have? Is the property on a Land Lease or Water rights lease? Is the property on Land fill or pilling or slab? If you own the land, how much extends into the water? Does the property have entitlements for a boat dock? Will you need to go through local governmental agencies such as FEMA or BCDC to get approval for access? Luckily, you don't have to figure everything out on your own. Your real estate agent will be by your side along the way, and specialized attorneys can help answer questions and settle any concerns that may arise.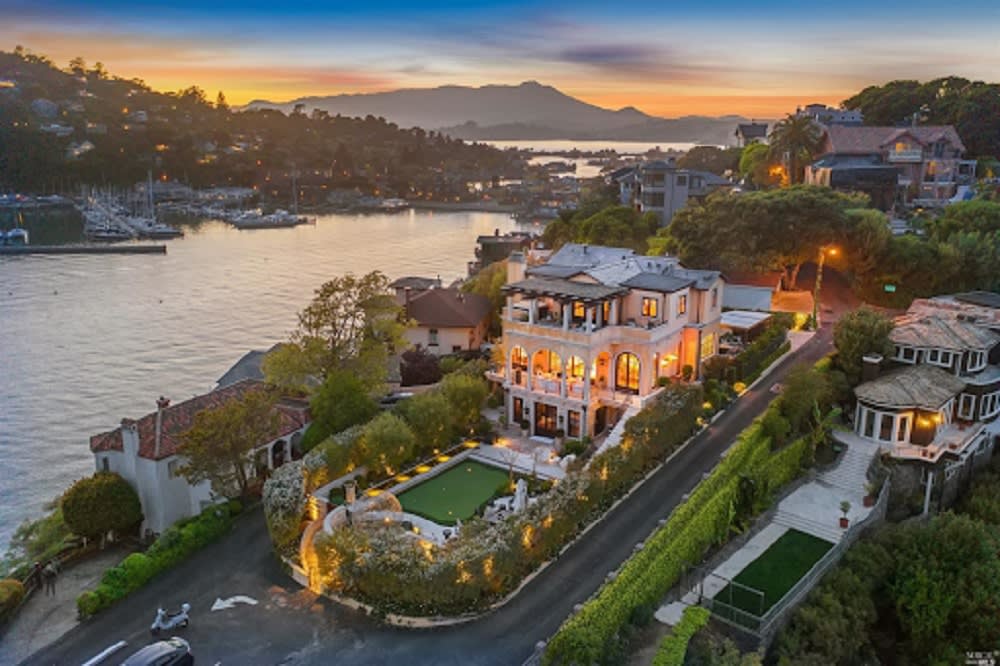 2. Weather research is necessary
It's common knowledge that waterfront homes experience a good deal more wear and tear than your average suburban home. Bay Area weather, in particular, can be quite unpredictable, so do your research, especially if you're new to the area. 

Belvedere offers clear summers, and temperatures rarely reach above 94 degrees Fahrenheit. You can also expect long-lasting winters with cool, wet, and cloudy weather, although it most likely will never dip below freezing; typically, the coldest winter temperatures hover around 40 degrees Fahrenheit. There are many fantastic opportunities for outdoor recreation in Belvedere, and you'll enjoy the best weather for these activities from late May to mid-October.

Belvedere's rainy season lasts from last November to the end of March, with the wettest days in midwinter. In the Bay Area, you can expect some cloudy and foggy days, so don't be alarmed if you look out the window and your view has totally changed! This is simply part of living in this area of Northern California. 

Foggy days, especially during the summer, can mean high humidity, so look into ways to protect your home from sustained humid conditions. You can search for information online, speak with your real estate agent, who will likely have plenty of local knowledge, or chat with nearby residents to find out how they handle the Belvedere weather. Your new neighbors will ideally be able to tell you what to expect in terms of rain, thunderstorms, and humid summers and offer some advice on protecting and maintaining your home. 

You may also want to speak with your neighbors about the types of utilities they recommend. On rainy or windy days, does the area often lose power? Check out which internet and cable providers are common in the area before you purchase your home. If you work from home or rely on modern conveniences, you'll want to make sure that this waterfront area will be able to suit your needs.

Many oceanfront homes feature tall glass doors and windows, perfect for soaking in the breathtaking views. It's worth noting that while these additions are excellent for letting in natural light, they can also be troublesome if a storm with major winds rolls in. Waterfront homes should use high-impact glass, a strong material that prevents shattering, and adhesive film can be applied to the windows for additional protection if necessary. If the home has sliding glass doors, they should be situated on a weathered track to allow for tight compression, keeping out humidity or leaks during heavy rain. Your real estate agent should be able to advise you on the protections your waterfront home already has in place.
3. Some regular repairs and maintenance will be necessary

While it's true that any home will require some regular updates and fixes, waterfront homes can begin to show wear and tear much more quickly than landlocked dwellings. It's likely that a Belvedere home on the water will require more than the standard lawn mowing and weeding you've grown accustomed to. Humidity can take a toll on the property over time, especially with lots of wet, foggy days. Make sure you've read up on the best ways to prevent moisture from damaging the structure of your new home. 

Protect the interior of your waterfront home by investing in a good dehumidifier, which can keep the humidity levels somewhere between 30 and 60 percent. Any furniture or surfaces that look damp should be thoroughly dried off within 24 hours to prevent mold from appearing; if you'll be out of town for a bit or if you choose to rent out your waterfront home, make sure that renters or visitors keep an eye out for any condensation.

You definitely want to avoid leaving your home vulnerable to weather damage, so if you are living somewhere else for any portion of the year, make sure to have trusted friends stop by to perform basic maintenance, or you can even hire a routine cleaning service. This will prevent the home from becoming damaged by the humid, salty air.

In any area where rainfall is common, it's a good idea to protect your home by installing gutters and downspouts. They should be large enough to handle the amount of water flowing off of the roof to prevent any leaking or water damage. Work with construction or home improvement professionals to make sure your waterfront home is properly protected from the elements — they will be able to make any suggestions for necessary additions.
4. Your real estate agent should have experience with buying and selling waterfront homes
The process of buying a new home can always be a daunting one, but waterfront property can often come with its own share of challenges. The benefits are certainly worth it — you'll end up with a gorgeous home on some substantial property you can enjoy — but you will definitely want an experienced real estate agent in your corner. Agents like the Sarkissian Bullock team at Global Estates have years of experience with buying and selling waterfront property. They know the ins and outs of Belvedere real estate and will be by your side throughout the entire process!

When you're just starting to work with your real estate agent, don't be afraid to ask some questions to make sure they are a good fit. You can check out their website to get a sense of some of the waterfront homes they've sold in the past, and of course, you can always ask questions about the experience of purchasing a Belvedere home on the water. Odds are, they've seen others go through the same thing and will be able to offer some advice and words of wisdom. Communicate with your agent as much as possible and make your preferences known, and they will work hard to make sure you're finding the home of your dreams!
Searching for gorgeous, waterfront Belvedere homes for sale? Contact the knowledgeable and experienced team at the Sarkissian Bullock Team today. Bill Bullock, Lydia Sarkissian, and Magda Sarkissian will be happy to help you navigate the market of Belvedere waterfront property and find the home of your dreams.