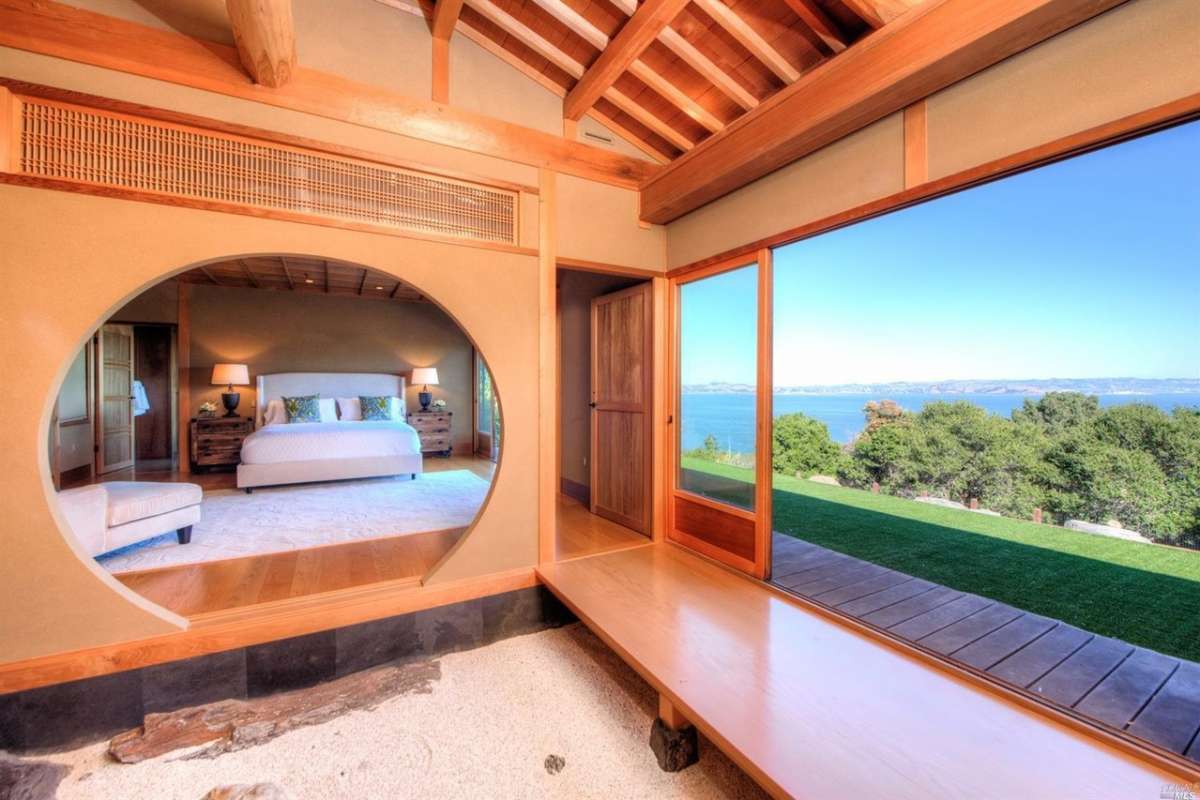 Unique and tranquil Japanese style mansion on the Tiburon waterfront listed at $5.495M lingers on the market, despite its beauty.
Bill Bullock and Lydia Sarkissian/Sothebys
Can a mansion be a mansion but somehow also be delicate and artful while also being grand and generous without being ostentatious?
This Tiburon abode, a fusion of traditional Japanese architecture and contemporary American luxe, is all that and more, priced at $5.5 million.
But it seems a hard sell and has sat on the market for nearly two years.
The Home
This 5,180-square-foot home was built in 1986. Yet its design is timeless.
The Japanese accented modern contemporary mixture here is masterful, and has enjoyed the spotlight in "numerous architectural books and magazines," says the listing.
Not hard to see why: Inside the home are five bedrooms and six and a half bathrooms. Everything here seems to showcase Japanese-style building practices, with 20 different types of wood and timber intricately woven into ceilings, floors, walls and cabinetry.
Beyond the enclosed foyer is a dramatic great room with a vaulted ceiling of fir and curved cedar spanning logs overhead.
There is a two-person office with tansu-style oak cabinetry, a playroom, a gym, three master suites and a mediation room with tatami reed floors.
The walls are a plaster of lime, straw, and earth; the floors are black ash.
Shoji paper doors slide between rooms, while bamboo-reed windows look out on the extensive, landscaped gardens.
Floor-to-ceiling glass functions like sliding doors, opening completely and allowing outside and inside to merge seamlessly.
But "the focal point of the entire lower level, added in 2006, is a unique interior rock and gravel garden with vaulted ceiling and intersecting log timbers," the listing boasts.
This Eastern influence marries well with a Western kitchen of elm and cherry cabinets, marble and stainless steel.
The home is accented with hardwood decks, these situated with a westerly orientation to make the most of the serene ambiance of the property as well as the Bay view.
A gabled roof with copper shingles crowns the mansion.
Outside
The estate offers nine acres in Tiburon with an unimpeded ocean view.
Japanese maples, pines, a pond, gardens, and a waterfall embellish the landscape.
There is also parking for 12 cars.
Why no buyer?
Such a lovely, unique abode seems ripe for for the plucking in an area where a $5.495 million dollar home is the norm.
Yet after 700 days on the market, 63 Norman Way has yet to find its new lucky owner.
It last sold in 2014 for $5 million.