Belvedere/Tiburon
The neighborhoods of Belvedere and Tiburon are located on the Tiburon Peninsula, reaching south toward the San Francisco Bay. The best features of these towns are the various nature areas and recreation options that fill the area. Residents maintain active lifestyles, cherish the top-rated schools, stay busy with an array of outdoor activities, and relish the proximity to San Francisco.

Paradise Beach Park is just one example of why the Belvedere/Tiburon area is perfect for those looking to get moving outdoors. This park offers scenic views of the East Bay, and it is an ideal location for a family-friendly, action-packed day of kayaking, swimming, fishing, hiking, and barbecuing. You can also get some fresh air while hiking the 24-acre wooded nature preserve Tiburon Uplands.

Additionally, The Ranch in Tiburon offers excellent camps for children, including tennis, art & garden, fantastical adventures, and more. The Ranch also offers adult classes, like art, cooking, fitness, tennis, and pickleball. Whether you are a young professional, retiree, or family unit, Belvedere/Tiburon is the place for anyone with a strong love for nature and moving their bodies.

For families, several exceptional schools that serve the Belvedere/Tiburon area include:

◾ Strawberry Point Elementary School, Public, K-5
◾ Marin Country Day School, Private, K-8
◾ Del Mar Middle School, Public, 6-8
◾ Redwood High School, Public, 9-12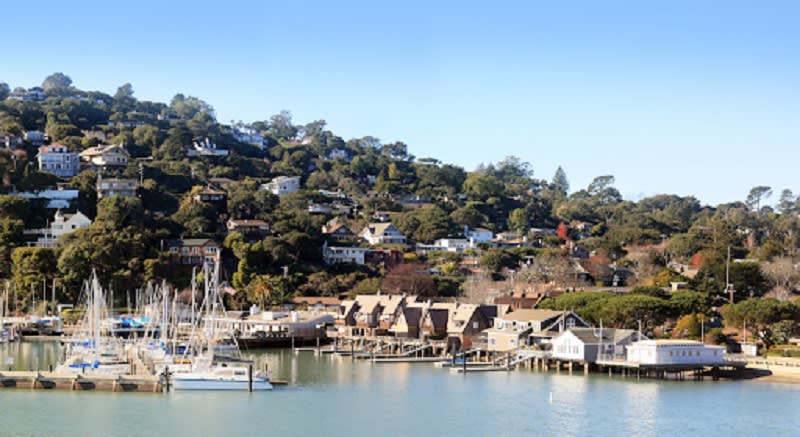 Credit: Wikipedia
Larkspur/Corte Madera
Highly sought-after communities Larkspur and Corte Madera are located just north of San Francisco. These towns are family-friendly and feature fabulous shopping and dining opportunities, excellent schools, and a variety of outdoor recreation. Locals love the suburban feel with urban amenities accessible to them.

For example, Magnolia Avenue in Larkspur is home to a plethora of boutiques, local eateries, and entertainment options. Catch a feature film screening while sipping a glass of wine or craft beer at the local Lark Theater. Grab all your family's cycling gear to cruise through the town at Larkspur Bike Shop. Head to Mt. Tam Racquet Club to swim in the indoor pool, lounge in the jacuzzi, or take various fitness classes like yoga, spin, karate, pilates, and boot camp. Head to Larkspur's Marin Country Mart for an array of restaurants, services, fitness facilities, and the Saturday Farmers' Market. All of this and more can be found on Magnolia Avenue in Larkspur.

If that's not enough, Corte Madera has exceptional malls teeming with shops and eateries. The Village at Corte Madera is home to premier retail locations, including the Apple Store, Free People, and Nordstrom. Head to Boca Pizzeria with the kids for a tasty pie, or relish some adult time during happy hour with various specials on wine, draft beer, pizza, and more. Town Center Corte Madera also features a broad range of restaurants, apparel, and specialty retailers. Stop by Philz Coffee for a tasty brew, head to Urban Outfitters for a new fit, and stop by Crate and Barrel for fabulous house furnishings.

Larkspur and Corte Madera are lively communities with activities accessible to people of all ages. However, if you enjoy a low-key lifestyle with many recreational opportunities, either of these communities will be exceptional. Sitting atop the Tiburon Peninsula, Ring Mountain Preserve offers visitors stunning views of the Bay, biking paths, and equestrian and hiking trails. You can even bring along your furry, four-legged friend. Piper Park is another park that serves the Larkspur community. This premier location includes tennis courts, play structures, picnic tables, a perimeter path, and an off-leash dog park. These communities offer an eclectic mix of urban treasures and suburban amenities, along with opportunities to take a breath and go at a slower pace outdoors. Anyone would be lucky to call Larkspur or Corte Madera home.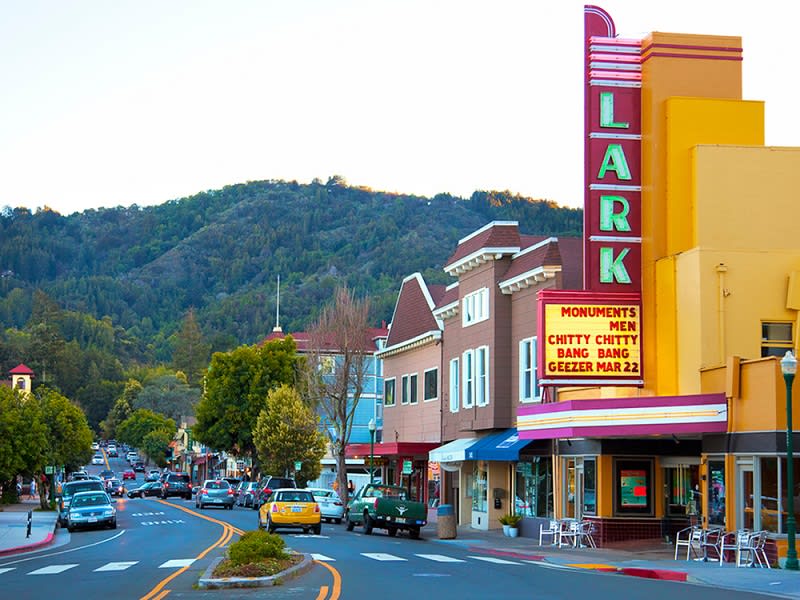 Credit: Larkspur Chamber
Ross/Kentfield
Ross and Kentfield are perfect for families who enjoy a tranquil lifestyle, appreciate nature and don't mind doing some light travel to reach dining and shopping opportunities in neighboring communities. These two communities are in close proximity to San Francisco and feature various local parks, preserves, and an excellent education system.

Baltimore Canyon Preserve near Kentfield offers a 193-acre nature area with a secluded canyon and cascading waterfall. Activities available at the preserve include biking, hiking, and equestrian trails. You'll be able to see beautiful wildflowers and wildlife views, along with a footbridge overlooking Larkspur Creek and towering redwoods.

Near Ross, you can also enjoy a family day trip filled with walking paths, lush grass for picnics and play, a labyrinth, a playground, and a community amphitheater at Hal Brown Park. Bad Hill Preserve in Ross features the beloved Baldy summit, dog-friendly trails, equestrian trails, and stunning views of majestic wildlife.

Ross and Kentfield are sensational destinations for nature lovers but also feature some premier schools, including:

◾ Ross School, Public, K-8
◾ Kent Middle School, Public, 5-8
◾ The Branson School, Private, 9-12
◾ Marin Catholic, Private, Catholic, 9-12
Mill Valley
Mill Valley is an affluent suburban community with endless options for outdoor recreation. The public schools are highly rated, and the neighborhood is filled with fabulous restaurants, shops, cafes, and parks. Residents enjoy a vast selection of hiking trails, golf courses, and Northern California's sunny weather to match.

Old Mill Park is nestled among towering redwoods and features a kid's playground, picnic and BBQ areas, an amphitheater, and restrooms. Boyle Park is another premier nature area that offers baseball fields, BBQ facilities, restrooms, children's play equipment, and a grassy knoll ideal for family picnics. The Mill Valley Community Center is teeming with activities for residents of all ages. The center features an indoor gym and pool with various classes, programs for early childhood through adulthood, arts and cultural programs, and more. A genuine community-oriented feel with countless opportunities for learning, playing, and growing is accessible to Mill Valley residents.

If you're searching for that perfect something, head over to Mill Valley Lumber Yard, a unique outdoor shopping mall that remains in touch with the latest trends while commemorating the area's history. Here you'll find unique boutiques like Bloomingayles, The Edit, and Makeshop alongside the innovative gluten-free menu at Flour Craft Bakery and the iconic Watershed Restaurant. This burgeoning community offers a packed agenda of things to do. Held annually, the Mill Valley Film Festival has brought cinema buffs to the community since its founding in 1977. Organized by the California Film Institute, this festival aims to celebrate the art of filmmaking while showcasing independent American and foreign films in a conversational arena designed to uplift voices and inspire creators.

For families, some schools with noteworthy accolades in Mill Valley include:

◾ Park Elementary School, Public, K-5
◾ Mill Valley Middle School, Public, 6-8
◾ Mount Tam School, Private, K-8
◾ Tamalpais High School, Public, 9-12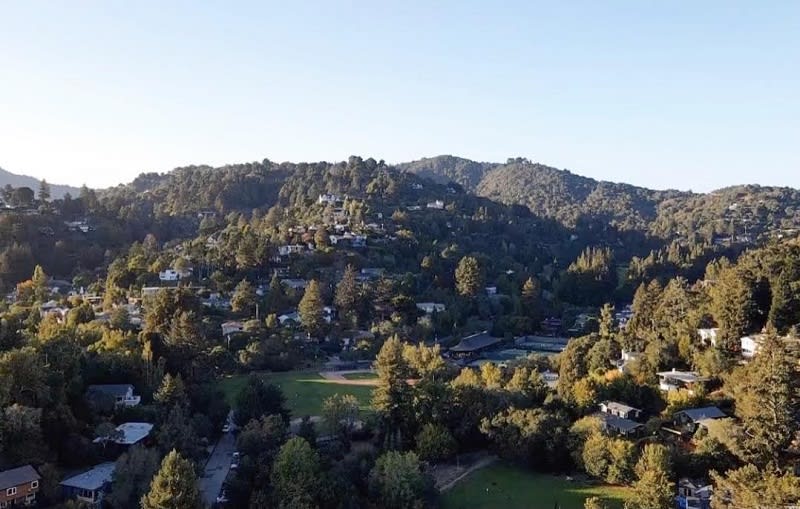 Credit: Wikipedia
San Rafael
San Rafael is one of the largest cities in Marin County and offers plenty of shops, restaurants, and activities. Residents love the great schools, attractions, and proximity to San Francisco. Located close to Interstates 580 and 101, San Rafael is a great town for commuters. This community has a balanced urban and suburban feel, and it attracts families and young professionals alike.

Some spots you must visit include Lagoon Park, which is a dog-friendly 10-acre nature area fit for wildlife viewing, fishing, and playing; the neighboring Field of Dogs park, an off-leash, fenced dog park with picnic areas and benches, and the Falkirk Cultural Center, which boasts gorgeous gardens, art galleries, and various programs for children. Here you can experience the art and culture of San Rafael. For another fun family day of whacking balls on the green and batting cages, relishing some fine food, and playing miniature golf, you can head to McInnis Golf Center. For a glimpse at the area's history, head to the Marin County Civic Center, which was designed by Frank Lloyd Wright in his signature style.

This area boasts breathtaking scenery, such as the shores of San Pablo Bay at China Camp State Park and the gorgeous expanse of Lucas Valley Preserve. Although named for settler John Lucas who is of no relation to the Star Wars creator George Lucas, Lucas Valley Road is now home to the director's famed Skywalker Ranch. If you crave a glimpse of the unimpeded hillside, consider the Eichler neighborhood, which was designed in the mid-twentieth century and is defined by the community's declaration of preservation and lack of above-ground power lines to keep the scenery as pristine as possible.

Shopping and dining are also easy ventures in San Rafael. For a one-of-a-kind evening head to Terrapin Crossroads. Established by Grateful Dead member Phil Lesh, this convivial environment is perfect for enjoying farm-to-table fares with a side of live music. Puerto Rican eatery Sol Food packs abundant flavors in plant-based dishes that keep diners coming back for seconds. Montecito Plaza is an ideal location for picking up pet supplies at Petco and doing your weekly grocery shopping at Trader Joe's. With so many amenities and outdoor activities, it is no wonder why residents love San Rafael.

For families, several excellent schools serve San Rafael, including:

◾ Glenwood Elementary School, Public, K-5
◾ Miller Creek Middle School, Public, 6-8
◾ Marin Academy, Private, 9-12
Sausalito
Sausalito is a lovely waterfront community that offers an array of amenities treasured by residents and tourists alike. Beautiful beaches, hiking trails, wineries, and plenty of dining options are readily accessible. Between being only ten miles from San Francisco with easy access via ferry, the vibrant downtown area, and beaches, families, professionals, and retirees never experience a dull moment in Sausalito.

Start your day off on the right foot by heading to Sausalito Bakery and Cafe for a lovely breakfast on the patio with stunning Bay views before sunbathing and swimming at Swede's Beach. Get some exercise and sunshine with a nature walk at the Morning Sun Trail, offering spectacular Bay views, or hop on your bicycle and join the others in this bike-friendly community for a spin through the neighborhood. For a lavish trip on the San Francisco Bay, rent a private sailboat charter while viewing whales, sea lions, porpoises, birds, and the Golden Gate Bridge via Sail Taihoa! If you prefer to see marine life up close, visit the Marine Mammal Center, a rehabilitation center whose purpose is to rescue, rehab, and release animals who have been injured.

All the eats, boutiques, and nightlife ventures are found in downtown Sausalito. Joinery, a beer hall, and a rotisserie bring the community together in a lively indoor-outdoor environment for good drinks and great times. Grab a slice of gourmet pizza at Bar Bocce and spend the evening relaxing on the back patio with seaside views, a crackling fire pit, and a bocce ball court primed for playing. Dive into the surf 'n' turf specials at Salito's Crab House while soaking up breathtaking views on the expansive patio. For a one-of-a-kind staycation, book a room at Cavallo Point Lodge, or simply make reservations at their on-site restaurant Murray Circle for a scrumptious meal with a jaw-dropping view of the Golden Gate Bridge. Head to Scoma's for a delectable seafood-forward meal on the Bay before relishing a wine tasting at the Real Napa waterfront tasting room. For a well-rounded evening of local and seasonal fares and fabulous libations, head to Barrel House Tavern, where you can enjoy fresh ceviche and barrel-aged cocktails bayside. These are just a couple of the many restaurants accessible along Bridgeway, the premier destination for all things eat, drink, and shop. There are countless opportunities for recreation available to Sausalito inhabitants, making this a popular home to those looking for fun!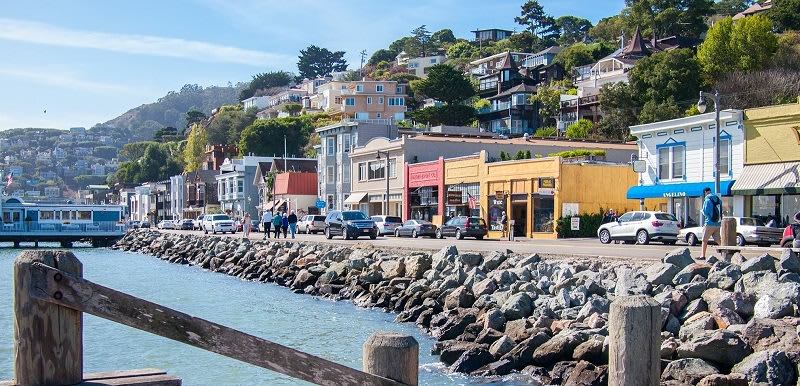 Credit: Travel Awaits
Stinson Beach
A charming beach town with a laid-back vibe, Stinson Beach is an ideal destination for people who enjoy luxury beachfront living in a relaxed setting. There are several beaches and hiking spots to revel in the great outdoors and fabulous NorCal weather.

Stinson Beach is the main attraction of this tight-knit community, with an array of activities to enjoy, including picnicking, fishing, surfing, hiking, and more. This is the perfect place to get some R&R and beachfront amusement. Explore the glory of the redwoods and Redwood Creek via a nature walk in Muir Woods.

Given the various hiking trails for hikers of all levels, Martin Griffin Preserve is the perfect spot to walk amongst evergreen forests, discover freshwater habitats, and explore local wildlife. Bring lunch, enjoy a hike, and get in tune with nature at this stunning nature preserve. If you're a nature enthusiast who prefers an easygoing lifestyle, Stinson Beach is the place for you.
Wine Country
Wine-lovers are welcomed with open arms in Wine Country. Home to countless exceptional wineries and comprising several towns, Wine Country is an ideal destination for those who prefer a lavish lifestyle and treasure sumptuous wine, world-class restaurants, luxury properties, and fine art.

Sonoma County is home to most of the wineries in the San Francisco Bay Area. Head to the family-owned Preston Farm & Winery in Healdsburg to relish their homegrown olive oil, purchase artisanal products in their farm store, and sample wine and seasonal cider. Beaver Creek Vineyards in Middletown produces organic and biodynamic wines with meticulous detail for an outstanding outcome. There are a plethora of vineyards to choose from, each offering its charm.

Golf is a treasured pastime of Wine Country inhabitants. There are dozens of fabulous clubs and courses throughout. Sonoma Golf Club is located in the heart of Sonoma Valley and offers club members a lush 177-acre course, premium wines, tennis courts, spa services, and more. Northwood Golf Club, situated along the Russian River, features a unique golf experience amongst soaring Redwood trees. Relish panoramic Pacific Ocean views, lush greenery, and a premier golf experience at The Links at Bodega Harbour. With a plethora of opportunities to enjoy wine, golf, and so much more, Wine Country is truly the perfect journey end for people who appreciate the finer things in life.

Looking for real estate in Marin County? With over $2 billion in real estate transactions under their belt, Sarkissian Bullock Team will handle all your Marin County real estate needs. Whether you seek homes for sale in Tiburon, Belvedere, Ross, or any of the remarkable communities the team services, they'll undoubtedly lead you to the luxury property of your dreams.