Selling your Marin home is a serious undertaking. After years of being lived in, there are bound to be certain rooms and areas that need a bit of attention and updating. When preparing to sell your home, you'll definitely want to spruce it up a bit. You want to ensure your property appeals to potential buyers, and there are many ways to do so.

By addressing rough areas in the home and doing some minor remodeling, you can see a major return on investment. Perhaps the property won't sell for the price you paid for it, but your efforts will result in selling your property swiftly and for a higher price point than if you hadn't upgraded it.

A real estate return on investment, or ROI, is an evaluation of the profitability of the investment you put in your property versus the profit that investment garnered. There are many factors to consider when evaluating the ROI of a home. Painting, advertising, landscaping, repairs, maintenance, appraisals, and the real estate agent's commission must all be accounted for. Additionally, the leverage from the initial investment must be considered.

When purchasing a home, financing terms impact the overall cost of the investment. Different real estate investors have their own concept of which upgrades will result in the biggest ROI. What some investors consider a good ROI, others may reject. These results are dependent on the risk tolerance of the real estate investor. Those willing to take risks do so in hopes of garnering a significant ROI. Alternatively, investors who play it safe will be happy with lower ROIs that are a sure thing. Your goal will dictate which projects you decide to pursue.

It must be noted that ROI is not synonymous with profit. Property must be sold before ROI profits are evaluated. Homes rarely sell at market value, and homes might sell for less than the original asking price, resulting in a lower ROI. Fortunately, there are several ways to upgrade your home without spending a fortune that will ensure a satisfactory ROI.
1. Maintenance
Before deciding which renovations to go with, you'll need to ensure the essentials are handled. Fundamental home improvement is crucial when selling your property. Making sure the house's structure is sound and sturdy is the first thing you'll need to secure.

For instance, instead of immediately pouring funds into a bathroom remodel, direct your attention to your decaying decades-old roof shingles. Structural issues are priority number one before moving on to the more fun and stylistic design upgrades.

Here are some upkeep elements to consider when preparing your home for sale and chasing a major ROI.

◾ Double-check that your electrical, septic system, smoke detectors, and carbon monoxide detectors are in working order.

◾ Replace your decaying roof and yield a 60-70% ROI.

◾ Consider replacing your siding with resilient cement to mimic wood, as it will not warp or rot over time. Vinyl is another option that is ideal for homes that face extreme weather, likely windy and rainy Marin County days. Siding replacement yields a 70-80% ROI.

◾ Replacing windows will see a 68-78% ROI and create better insulation and aesthetic appeal. The increase in insulation can be a major selling point. Vinyl is great for smaller budgets, while wood makes for a classic and sophisticated appearance.

◾ Re-caulk showers, toilets, sinks, and bathtubs for an inexpensive DIY that gives your home a polished look.

◾ Re-keying your home is bound to foster an appreciation in potential buyers. Opt for a high-quality security camera like this wireless, weather-resistant security camera.

◾ Give your walls a fresh coat of paint wherever there are stains and peeling wallpaper. Create a cohesive beachy Marin vibe with some beautiful beach-inspired paint colors.

◾ Invest in furniture repair or replace some pieces with affordable furnishings.
2. Landscaping
Your home exterior is the first thing house hunters see when they pull up for a home viewing. First impressions matter the most, so ensure your garden and patio are presentable. According to FortuneBuilders, the average cost of a landscaping update is $4,900 with an ROI of 100%.

Curb appeal is a major concern for homebuyers, so don't neglect this task. A manicured lawn, a stunning array of vibrant blooms, and a well-maintained garden significantly add to a home's curb appeal. Consider the following to boost curb appeal and garner major ROI.

◾ If your gate or fence is old or in disrepair, opt to replace it with a gate made of composite, wrought iron, or other low-maintenance gate options. If it simply needs a little boost in appearance, apply a fresh coat of paint.

◾ Replacing your front door is affordable and affords an 85-100% ROI due to its high functionality and cosmetic appeal.

◾ Replace older plants, trim shrubs, and prune trees for a refined look. If your yard has become too unruly to handle, hire a professional landscaping company.

◾ A mere few hundred bucks worth of plants can go a long way. Add greenery and perennials throughout your garden and planters along the walkway to create a beautiful entry to your property. Utilize plants to draw focus to certain areas, such as a bench or water feature.

◾ Fountains or pondless waterfalls are great, low-maintenance water features to incorporate. Opt for a koi pond or a contemporary waterfall if you have a larger budget. Whichever selection you choose, a water feature is bound to create a serene focal point in your garden that homebuyers will surely adore.
3. Replace the garage door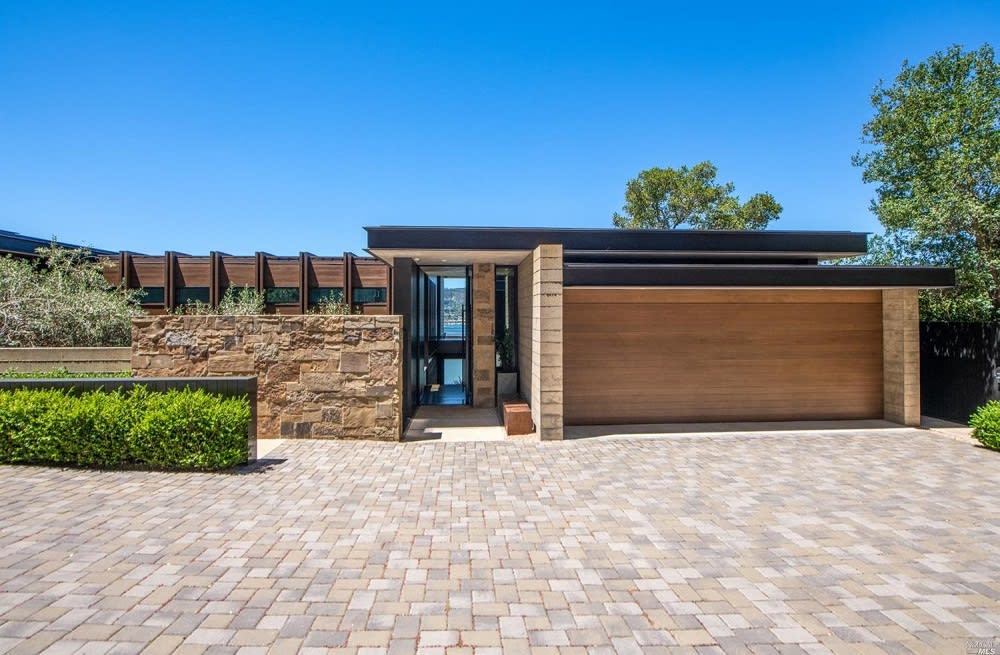 41 Belvedere Avenue
The garage door is often overlooked when people prepare their home for selling, but it should be addressed as it adds to curb appeal. According to remodeling.net, a garage door replacement costs around $3,470, with a resale value of $3,411. This means that you can expect to recover 98.3% of the replacement cost.

This simple yet valuable home upgrade to your property's facade is easy on the pocket and aesthetically pleasing. Keep these things in mind when replacing your garage door.

◾ Take your home exterior's style into account when choosing a garage door. Is your Mill Valley real estate mid-century modern, California ranch, or Cape Cod style? Your home's architectural style will guide you in choosing a garage door to complement the property.

◾ Don't go over budget! The last thing you want is to spend a small fortune on a garage door at the expense of other pertinent home upgrades. A high-quality garage door typically costs between $600 and several thousand. Price for installation, type of opener, and whether you desire insulation are all considerations to keep in mind.

◾ Given the array of garage door designs to choose from, you're sure to find one to match the appearance and feel you're going for.
4. Minor bathroom renovation
Bathrooms and kitchens are essential areas to address when preparing your home to sell. On average, a minor bathroom remodel accrues a significant RO1 of 102%, making it an extremely worthy undertaking. This renovation will cost around $10,500, with a return of $10,700. This project needn't start with a blank slate, and just a few minor details can make a world of difference!

◾ Repaint the walls and cabinetry. Opt to replace cabinetry if it's within your budget.
◾ Buy matching towels and accessories to create a cohesive theme.
◾ Replace the vanity.
◾ Replace your outdated showerhead with a luxurious rain shower.
◾ Touch up the bathtub by spot-fixing with these excellent tub repair kits.
◾ Refinishing the bathtub is an excellent option to make the home feel less lived-in.
◾ Replace your dull, outdated lights with modern ambiance-setting light fixtures.
5. Minor kitchen renovation
People say the kitchen is the heart of a home. As you prepare your home to sell, updating your kitchen is a worthy feat for reaping a major ROI. Gutting your kitchen and starting from scratch results in a 91% ROI on average, but a minor renovation will yield more favorable results. A minor kitchen remodel accrues a 98.5% ROI on average and costs roughly $15,000.

Not only is this good news for your pocket and schedule, but this also gives you ample time to work on other home selling pursuits. Consider the following guideline when undergoing a minor kitchen renovation.

◾ Install new flooring such as linoleum or vinyl for an affordable and easy-to-maintain option. Hardwood, though pricey, adds a palpable elegance to your kitchen.

◾ Reface cabinets instead of replacing them. Apply a fresh coat of gloss or paint. Purchase new cabinet hardware to go with your updated cabinets. Shiny metal finishes and clean, sharp lines are trendy.

◾ A new sink faucet is affordable. Match it to your cabinetry hardware for a polished look.

◾ Replace outdated appliances with new, state-of-the-art models.

These projects are well within reach of any homeowner looking to spruce up their place for selling. Before jumping head-first into these tasks, speak with a qualified real estate agent. A knowledgeable real estate professional will help you create a plan to make your property more marketable.

Once you're ready to update and sell your Mill Valley home, contact the esteemed The Sarkissian Bullock Team at Golden Gate Sotheby's International Realty. This professional team will ensure a smooth and optimal real estate sale. With combined sales of nearly $2 billion in closed transactions, The Sarkissian Bullock Team at Golden Gate Sotheby's International Realty will undoubtedly aid you in garnering a significant ROI when selling your home.
*Header: 74 Bellevue Avenue