The scenic Marin County enclave of Mill Valley is the perfect place to enjoy Northern California's stunning natural beauty. Residents love spending time outside in Mill Valley's pleasantly mild Mediterranean climate, which ensures plenty of warm, sunny days. When you live in Mill Valley, you're lucky enough to be surrounded by beautiful sights like the towering Mt. Tamalpais, the Golden Gate National Recreation Area, and even the iconic Muir Woods! Here are some of the best ways to get outside in Mill Valley this sunny season and take advantage of everything this beautiful city has to offer.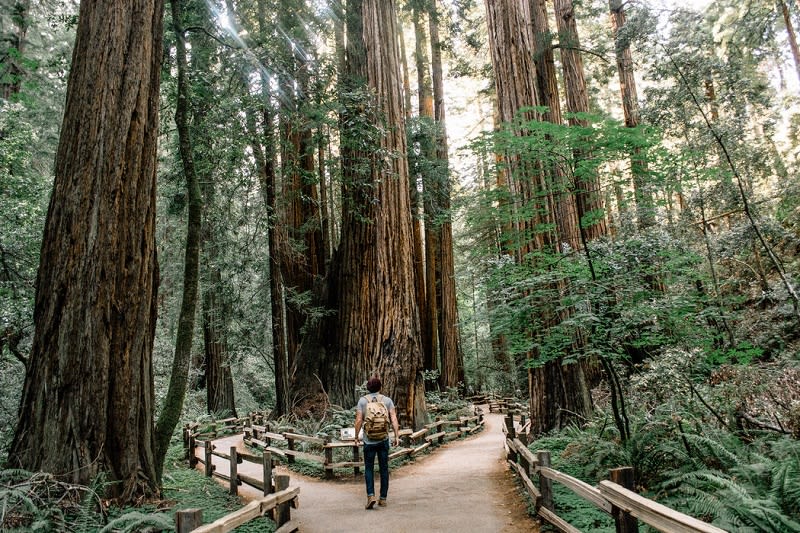 1. See the beautiful redwood trees
If you're looking for a way to relax in nature and see some truly stunning wonders, there's no better destination than Muir Woods National Monument. Since 1908, this federally protected forest has been attracting wide-eyed visitors who travel from all over the country to observe magnificent old-growth coast redwoods. The forest is carefully protected, with dedicated teams working on sustainability, road improvement, preservation of the salmon habitat, and more. This guarantees that Muir Woods will be around for generations to enjoy!

Bring the kids along for a fun day out and let them become a Junior Ranger! This program, available at most national park sites, allows children between the ages of 5-12 to get involved and learn more about the natural world around them. Kids will complete activities, chat with park rangers, and ask any questions they might have. All participants receive an official Junior Ranger patch and certificate. Simply stop by the visitor center to pick up a Junior Ranger book and pencil and get to work!

Muir Woods is home to six miles of incredible trails, allowing you to customize your hiking experience based on skill level or time available. Choose from a 30-minute loop, an hour loop, or a 90-minute loop; there are also more difficult options for experienced hikers that stretch out into the surrounding Mount Tamalpais State Park. Check out the trail map to plan your adventure. The Muir Woods trails are either made of asphalt or boardwalk, making for easy walking, while the canyon wall trails are dirt, narrow, and steep. Plan to pack water and sunscreen, and dress in sensible walking or hiking shoes to ensure the most enjoyable and comfortable experience.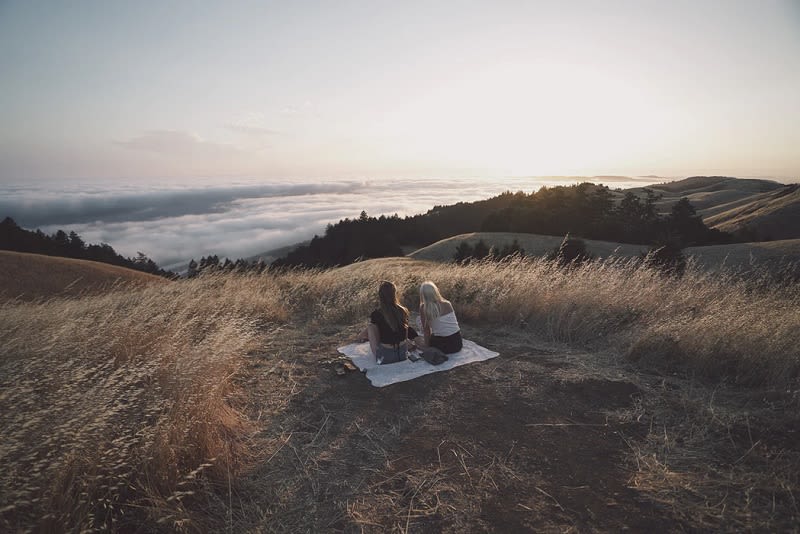 2. Enjoy a scenic hike
Mill Valley is also home to a wide variety of fantastic hikes right in your own backyard! Over 100 trails are available in the Mill Valley area, and with so many fabulous places to explore, you'll never be bored. Mount Tamalpais State Park is home to lots of incredible scenic hiking opportunities, including Dipsea Trail, the Steep Ravine Trail, and Matt Davis Loop. These three trails loop together to form an incredible 7.5-mile hike that's great for walkers and runners. The scenic hike will take you up to the Pantoll Ranger Station, offering sweeping views of the glittering Pacific Ocean. The trail also leads hikers past rushing streams and breathtaking waterfalls, providing a one-of-a-kind experience in the great outdoors!

Head over to Pirate's Cove, part of the Golden Gate National Recreation Area, for a shorter but still challenging hike. This 3.6-mile out and back trail is great for catching a glimpse of the local wildlife, as well as the stunning Pacific Ocean below. Pirate's Cove is a great choice for birdwatchers and groups looking to explore nature.
3. Participate in outdoor sports
Sports lovers rejoice — there are plenty of ways to get outside and active in Mill Valley by following your favorite athletic pursuits! Golfers will have a great time trying out the facilities at the Mill Valley Golf Course, a local favorite that offers club memberships for players of all skill levels. Members can gather at the course throughout the year for competitions, meetings, dinners, and special holiday events. The stunning 9-hole par 33 course spans 42 gorgeous acres of hills, creeks, and mature redwood trees. Beginning golfers can enjoy a short course that moves at a slower pace, allowing them to gain an understanding of the sport. There's also a lush putting green that's perfect for honing your skills and a pro shop fully stocked with all the equipment you will need, including club rentals.

Stop by Boyle Park, a center for tennis activities, for a great workout. This public park is one of Mill Valley's best community hangouts, offering five fabulous tennis courts that host a variety of tournaments and events throughout the year. Kids are welcome to participate in summer camps and after-school camps, while adults can take lessons and classes in a variety of categories ranging from tennis to pickleball.

There's also the Mill Valley Tennis Club, a favorite community hub that's great for making new friends and staying active. Founded in 1929, this tennis club offers a strong sense of community to its members. The fabulous tennis courts host tournaments, mixers, and league games. There are even summer camps and after-school programs for kids between the ages of 6 and 14 to enjoy!
4. Go horseback riding
Enjoy a fun day for the whole family by heading over to Miwok Stables, located in the Golden Gate Recreational Area. Noted as one of the Bay Area's most beautiful riding stables, Miwok Stables is home to 26 horses and a knowledgeable, credentialed staff of instructors. You'll love exploring the gorgeous California grasslands dotted with chaparral and oak trees — truly a stunning backdrop to your horseback adventure.

If you've always dreamed of taking riding lessons, Miwok is the place for you! Enroll in an introductory course for adults that will teach you how to ride and how to groom, saddle, bridle, and mount your horse. The certified instructors can help you get familiar with the sport of horseback riding, whether you're a former rider who needs help getting back in the saddle or a complete beginner! Of course, lessons are also available for the kids, whether they're looking to take casual classes, participate in an after-school program, or join the show team.

Horse owners can also choose to board their horse at beautiful Miwok Stables. Boarding includes a reserved stall, daily exercise, three daily feedings, and daily stall and paddock cleaning.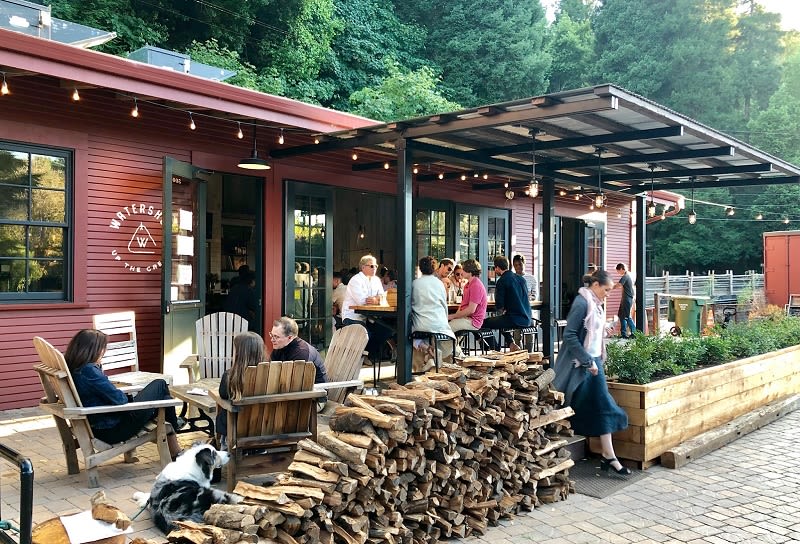 Credit: Watershed Mill Valley
5. Dine outdoors
If you need a break from all the outdoor recreation, you're in luck! Mill Valley is home to some fabulous restaurants that offer outdoor dining. Bungalow 44 features a gorgeous outdoor dining tent lit with festive string lights that add some beautiful ambiance to the experience. At this popular neighborhood hangout serving up some delicious Californian cuisine, you'll fall in love with Bungalow 44's fabulous dishes made with locally sourced ingredients, fresh off the fishing boats, and the Marin Farmers Market. The restaurant also includes a fully stocked bar, so order a signature craft cocktail, kick back, and relax!

If you're craving a cold beer after a day of adventure, stop by Mill Valley Beerworks to take advantage of their comfortable outdoor patio. Mill Valley Beerworks is a fun and casual farm-to-table restaurant that offers a lovely dinner menu, with appetizers and snacks like smoked olives, house Pickles, and charcuterie that pairs wonderfully with a glass of beer. Entree options include the Wagyu sirloin topped with mushrooms, horseradish, and broccoli rabe, or the decadent bacon cheeseburger featuring a chili aioli and fries on the side. Veggie options include the Fall Harvest, which combines delicious ingredients like squash, goat feta cheese, root vegetable gratin, and chive panisse.

Head to the historic Mill Valley Lumber Yard to grab a bite to eat at Watershed. Here, Chef Kyle Swain is serving dazzling Californian dishes. Fresh and flavorful, the Watershed menu includes a delightful array of salads and pizzas, as well as entrees. Start with the Little Gem Salad and a cheeseboard. Then, split one of their artisanal pizzas with the table — like their peach pancetta pizza or the one-of-a-kind "Mad River" pizza with maple fennel sausage, caramelized onions, and mushrooms — or try one of their entrees, like their Thai glazed smoked baby back pork ribs or ricotta cavatelli. Aptly named, Watershed overlooks the creek and was built in the location of Mill Valley's original sawmill, and this slice of history is serving up dishes starring locally sourced ingredients that are as nourishing as they are inventive.

Searching for gorgeous Tiburon homes for sale? Contact the knowledgeable and experienced team at Global Estates today. The Sarkissian Bullock team, made up of luxury real estate agents Bill Bullock, Lydia Sarkissian, and Magda Sarkissian, will be happy to help you navigate the market of Tiburon waterfront property and find the home of your dreams.