As you prepare your home for sale, you'll have several tasks to undertake to ensure everything goes smoothly. Every seller wants to sell their property swiftly and for a significant profit, and it takes more than luck to make this happen.

The home preparation process may seem daunting, but it doesn't have to be. Careful planning and knowing how to prepare your home professionally will entice buyers to shell out a down payment. Follow these steps to ensure your home gets sold quickly and for top dollar.
1. Separate yourself from the home
You must dissociate yourself from your property to sell it effectively. Though letting go can be difficult, it will make the home selling process that much easier once you do. To detach yourself from the home emotionally, it's important to realize that a house is just a house — it's the people who live inside that make it a home.

Focusing on the future you're creating for yourself will make this step feel a little bit easier. After all, you are moving to a new property where you will create long-lasting memories with your loved ones!
2. Depersonalize
Presenting buyers with a blank canvas where they could picture their lives unfolding is essential. Remove all photographs, family heirlooms, and other personal belongings that might distract house hunters and consequently hurt a possible sale. Your goal is to present a clean and polished house so they can imagine their family photos and artwork on the walls and their furniture in the rooms.

Though you will remove personal belongings, you will want to leave some furnishings. Only leave understated, essential pieces that will create a warm and inviting space but don't exude the personality of the previous tenants. You want buyers to fall in love with the house and picture their own belongings inside.
3. Declutter
8 Cliff Rd
People collect an astounding quantity of items over the years, whether due to emotional attachment, nostalgia, an intention to reuse them, or to pass them on to their children. Though it is lovely to collect meaningful objects, we often stow these things away, leaving them to collect dust in the attic.

Go through these items and make thought-out decisions on which to keep and which to toss. Don't forget to remove books and other trinkets from bookshelves and clear your kitchen counters, etc. Essentials you use daily can be tucked away in closets when not in use. Think of this task as getting a headstart on packing!

Discard these unseen treasures by donating them to a local charity or nonprofit organization like Goodwill or the Salvation Army. These items will not only help those less fortunate, but some are tax-deductible. Call your local waste management company to schedule a pickup for unaccepted items.

If you're overwhelmed with the amount of stuff you have or the task of organizing it all, consider hiring a professional organizer to help you declutter. They will help you decide which items to throw out, store and donate. Organizers typically charge from $30 to $80 hourly and are worth every penny when you're planning a move.
4. Remove and replace favorite items
Any objects you plan on taking with you to your new home should be removed before showing the house. Whether it be window treatments, built-in appliances, or light fixtures, you want to remove them so that potential buyers don't expect them to come with the house. Pack up the crystal chandelier your grandmother gave you or that intricate Persian rug you got on vacation. Trust me, the last thing you want is to tell a potential buyer they can't have an item they see during a showing — it can hurt a sale!
5. Rent a storage unit
Almost every home shows better with minimal furniture. You're aware that potential buyers don't want to see that wacky couch you bought at the flea market or your children's massive toy collection, but where on earth will you store these items?

Consider renting a storage unit when preparing your home to sell. Keeping your belongings offsite is the best way to maximize the space in your house. Leave just enough furniture to showcase every room's purpose with plenty of room for potential buyers to move around.

Storage units can range in price from $30 to $300 per month and vary in size, location, and features. According to Moving. Tips, some storage units even boast climate control and security features!
6. Deep clean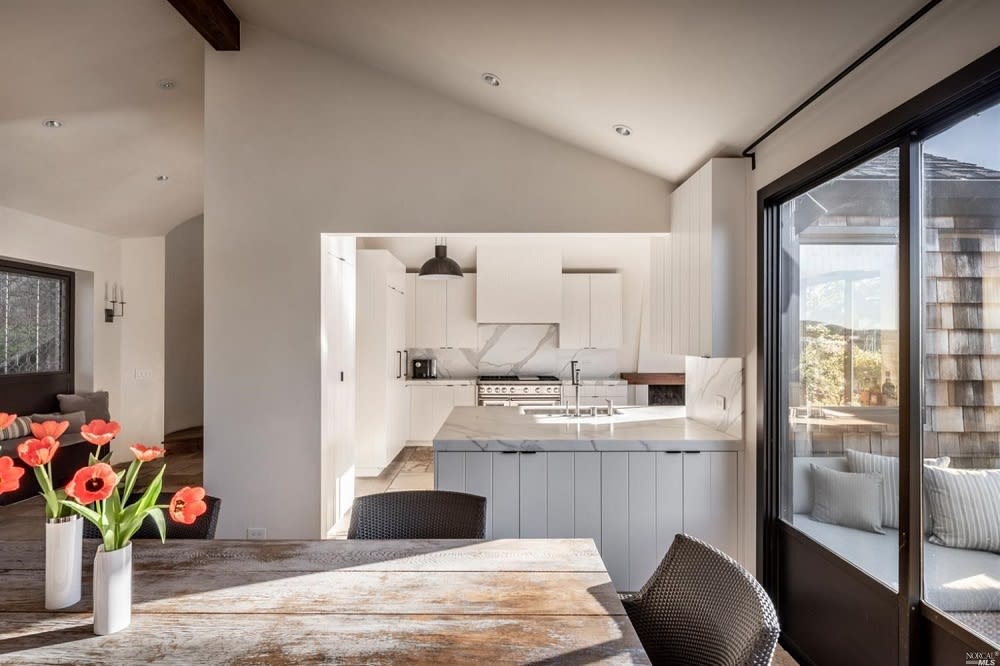 7 Bellevue Avenue
A deep clean is a must, must, must! The last thing a homebuyer wants to see when viewing a property is dust on the floor and grimy kitchen counters. Hiring a professional cleaning company will be the most effective way to get the job done quickly, efficiently, and correctly. A deep cleaning may include washing the windows inside and out, using a pressure washer to spray down the home exterior, caulking tubs, showers, and sinks, and polishing chrome faucets and mirrors.

Ensure all dust is removed from under the furniture, inside the cabinets and closets, and in every corner that dust bunnies collect. Maintain this cleanliness with daily vacuuming, waxing floors, dusting furniture, and keeping the kitchen and bathroom spotless. Pay extra attention to the kitchen and bathroom, as these essential rooms are critical to potential buyers. Prioritize airing out any musty areas. The night before a showing, avoid cooking especially fragrant foods, as the smells can linger the following day.
7. Make minor repairs
In a seller's market, selling a home in a lived-in condition is typically easier. Although Marin's real estate market favors sellers, it is still important to make minor repairs. Take a good look around the home and make a list of accessible, affordable, and worthy repairs. Caulk holes in walls, fix leaky faucets, and repair any kitchen drawers that jam. Though small, burned-out bulbs and paint-chipping window sills will undoubtedly catch the attention of potential buyers when viewing your home. You'll be kicking yourself if you lose a potential sale because a light bulb blew out when you flipped a light switch during a showing. Details matter, especially to homebuyers, so take the time and effort to care for the little things.
8. Paint the interior
7 Bellevue Avenue
Your home is more likely to sell with a fresh coat of paint. First impressions matter most, so ensure buyers don't see scuffed-up walls and fading paint when viewing your property. Neutral colors are the way to go, as most people find them agreeable. Beige, tans, grays, and greige (gray/beige) are excellent choices.
9. Boost curb appeal
If a potential buyer pulls up to your property and sees a tattered fence and a rough home exterior, they will quickly hop back in their vehicle and skip viewing the home altogether! Spruce up your home exterior, walkway, and entryway to make your property more appealing and welcoming. Painting the front door and adding a wreath or a flower planter or two makes a significant impact. Spend a few hundred dollars on colorful flowers, or better yet, hire a landscaper to clean up your lawn and add some flowering plants to your garden. If your walkway or front steps have seen better days, hire a contractor to fix any cracks. Last but not least, make sure visitors have a clear view of your house number.
10. Final Examination
Now that you've undertaken these important steps to ensure potential buyers fall in love with your property, take a walk-through and take note of anything that needs adjusting. Linger in the doorway of each room and think about how a buyer would view it. Note how the furniture is placed and rearrange pieces until the room is visually appealing, ensure window coverings hang evenly, etc.

Once your home is sparkling clean and everything is organized and repaired, you can begin staging your home. Our team has prepared a comprehensive guide for a more in-depth look at how to prepare your home for sale.


Are you preparing your Tiburon home for sale and need the assistance of a real estate professional? Contact Sarkissian Bullock Team at Golden Gate Sotheby's International Realty today. Bill Bullock, Lydia Sarkissian, and Magda Sarkissian will guide you through each step of the home selling process with poise and care. With combined sales of nearly $2 billion in closed transactions, this team of powerhouses will sell your Marin home in no time!
*Header: 4890 Grange Road