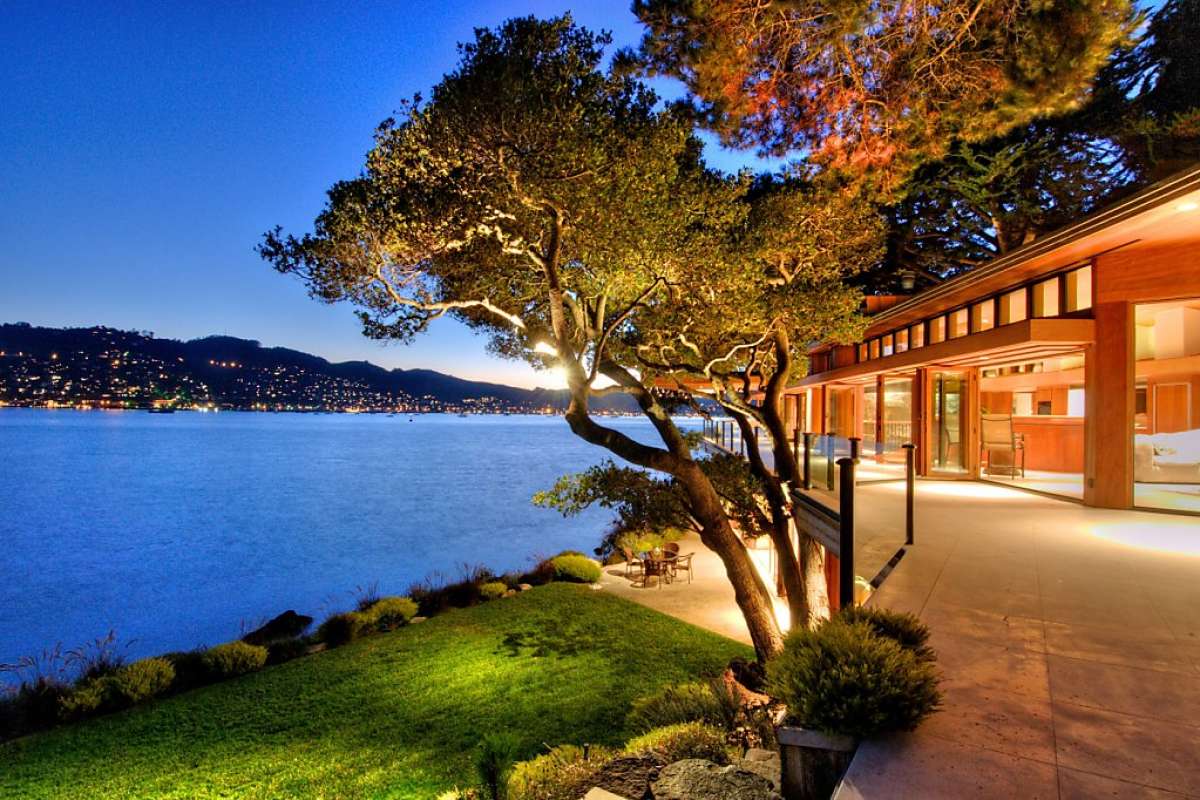 Brilliant lighting and vast amounts of space make the property ideal for gatherings. Matt McCourtney
It's considered to be the pre-eminent creation of a San Francisco architect whose application of geometry and penchant for using natural wood helped define Bay Area style in the postwar years.
The 7,900-square-foot home in Belvedere is the creation of
Jack Hillmer
, who completed it in 1950 for an illustrator and graphic designer. It sits on a peninsula beside Richardson's Bay, providing panoramic views in a secluded setting.
"When you look at (this home) on a global level and compare it with others, it's a unique property," said
Lydia Sarkissian
of
Sotheby's International Realty
. "It's at water level and offers amazing views of landmarks like the
Golden Gate Bridge
, Alcatraz and the San Francisco skyline. And since it's the last property on Cliff Road, there's a tremendous amount of privacy."
Along with its ingenious design, the 1.12-acre estate features 220 feet of shoreline and a wine cellar. With five bedrooms and 5.5 bathrooms, the southern-facing home capitalizes on its location by showcasing views of the bay and San Francisco skyline. There is also a detached garage and separate two-bedroom guest home that were built in the 1970s.
Unfinished redwood, a favorite construction material of Hillmer's, complements the steel framework of the main home. It is priced at $22.25 million.
Keeping with Hillmer's design reputation, the home connects with the landscape surrounding it. Sharp angles filter natural light and allow striking views. Cypress trees older than the home frame the back yard. A mural of sea life serves as a backdrop for the living room and dining room and French doors lead out to a patio offering unobstructed views.
The result is a meditative setting harmonizing ornamental and practical uses of art and complex mathematics. The pinwheel-patterned interlocking roof is just one example of Hillmer's design imprint often studied by students of architectural design.
The location makes it an ideal retreat for those who cherish water and placid surroundings.
Kayakers can launch right from the home's ramp on the shoreline and paddle to Angel Island or McCovey Cove. Anglers trying to land a sturgeon or striped bass in the bay can cast a line from the porch and cook dinner in the modern kitchen featuring a breakfast bar. A formal dining room parallel to the water serves as the ideal setting for a gatherings.
"And there's no better view for America's Cup action when it comes to that area," said Sarkissian.
The view from the master bathroom could be featured on a postcard. A jetted tub sits beside a wood-paneled window, enabling relaxing soaks to be harmonized by lapping waves, marine bird calls and echoing foghorns.
Rectangular floor-to-ceiling windows dominate the walls of the two-story house, and the master bathroom takes advantage of that with its placement in the corner closest to the Golden Gate Bridge.
The centerpiece of the home is a 13-ton block of granite taken from a quarry in the Sierra that was fashioned into a fireplace and set in the living room.
In
Alan Hess
' book "Forgotten Modern: California Houses 1940-1970" Hillmer said he chose the stone because it blends with the rocky formations near the home.
The home was originally built for Fred Ludekens, an accomplished artist whose work appeared in Good Housekeeping, the
Saturday Evening Post
and the
American Magazine
. He and Hillmer met while working in the same building in San Francisco.
The home was originally one-story, but a lower level was added in the early 1970s, said Bullock. The upstairs portion of the home is Hillmer's creation.
Though Hillmer designed less than 10 homes during his career, his influence continues to inspire.
"He was an architect's architect," said Hess. "He is admired for his unique vision and the loving care and artistry he brought to his designs and every detail. He lavished incredible care on every detail, down to the smallest thing."
Stories swirl about Hillmer scouting locations for his homes by climbing trees on the lot to find the best place to build. Clients would seek him out to get his sense of what would be the best design.
"It is modern, but it's such an original interpretation of modernism," said Hess. "You can still see his original concept,"
Some of Hillmer's original work, such as a concrete-walled bathroom with wood sinks, was sacrificed during a 2001 remodel. But the supplemental construction artfully integrated modern amenities into the classical space.
Hillmer, who died in 2007, studied architecture at the
University of Texas
and graduated before World War II. Though the war effort temporarily halted his architectural career, he kept busy designing interiors for Allied bombers.
Details
Address: 1 Cliff Road, Belvedere
Price: $22.25 million
Listing agents: Bill Bullock (415) 384-4000, Lydia Sarkissian (415) 384-4100 (Sotheby's International Realty)
Bedrooms: 5 (main home) 2 (separate guest home)
Bathrooms: 4.5 (main home) 1 (separate guest home)
Square feet: 8,000 total