The beautiful city of Belvedere is located just north of the Golden Gate Bridge, looking out over the water and offering stunning views of not just the Bridge but also Angel Island, Mt. Tamalpais, and the sprawling city of San Francisco. With views this gorgeous, you'll feel like you're on vacation every day!

There are plenty of ways Belvedere residents love to enjoy the water. Read on to learn more about the best ways to enjoy Belvedere's breathtaking waterfront location.
1. Try out open water swimming
You might never have considered that you could take a dip in the San Francisco Bay, but Odyssey Open Water Swimming makes this a reality! The trained instructors at Odyssey will make sure you feel safe and comfortable as you dive into this new adventure. Weekly swims are available, during which the instructors set up a variety of routes clearly marked with buoys. The support crews also oversee the swims from kayaks, paddleboards, and a motorboat.

Beginner and intermediate swimmers who are just looking for a fun workout or water-based activity can choose to swim at their own pace, following a short half-mile route. If you're more of an advanced swimmer or training for a competition or race, you may choose a route that averages about a mile. Odyssey offers some events that participants love, including an exhilarating Alcatraz Swim, the 6.2-mile Bridge to Bridge Swim that will take you from the Golden Gate Bridge to the Bay Bridge, and a series of exciting Night Swims.

So what do you need to bring for open water swimming? Odyssey recommends wearing a wetsuit rather than a swimsuit, especially during the winter months when water temperatures can get pretty chilly. Wetsuit rentals are available at Sports Basement if you're not quite sure you want to commit to purchasing one. Swimmers should also bring goggles, a brightly colored swim cap, a towel, earplugs, and warm clothes to change into afterward, as well as snacks and water.
2. Commute to the city via water transportation
Thanks to Belvedere's location right on the water, San Francisco commuters don't have to worry about sitting in traffic on the Golden Gate Bridge. Instead, you can simply hop aboard the Tiburon Ferry and enjoy a picturesque view on your way to work!

The ferry departs from Tiburon seven times throughout the morning and evening; typically, the commute to the San Francisco Ferry Building will take you about thirty minutes. In the morning, the ferry runs at set times between 5:30 and 7:55 AM, while the evening trips begin at 5:05 PM and end at 7:30 PM. Check the schedule, which is updated regularly due to COVID-19 restrictions and guidelines, to find the time that works best for you.

Looking to get out on the water for a cruise on your day off? You'll want to check out the schedule at Angel Island Tiburon Ferry, a family-owned and operated ferry service that has served the Belvedere area for five generations. The ferry services offered include sunset cruises, whale watching expeditions, private charters, and special events. It can also take you across the water to Angel Island State Park for a day of fun in nature.

Sports fans enjoy taking the boat into town for an evening watching a Golden State Warriors' basketball game or heading to Oracle Park to watch the San Francisco Giants play.

If you're hoping to celebrate a holiday or special event with your loved ones, a ferry cruise might just be the perfect thing! Recently, the Angel Island Tiburon Ferry has offered a Mother's Day Sunset Cruise, multiple Fourth of July Fireworks Cruises, a Valentine's Day Sunset Cruise, and a New Year's Eve Fireworks Cruise.

If you're in town visiting or want to head out on the water without throwing off the bowlines, hop on a water taxi, which can easily transport you through the area.
3. Join a Yacht Club
This area is home to many outstanding yacht clubs that allow avid boating enthusiasts to join in fellowship, build long-lasting friendships, and celebrate their love of the water. The Corinthian Yacht Club of San Francisco and The San Francisco Yacht Club are both strongholds in the community, offering a variety of social events and amenities.

At The Corinthian Yacht Club, members run the gamut of boating styles — from yachting to canoeing and everything in between — but their profound love of life on the water remains steadfast. With racing, cruise outs, and sailing instruction available to members, joining The Corinthian Yacht Club is excellent for all ages.

The San Francisco Yacht Club is the oldest yacht club on the west coast, dating back to 1869. This Belvedere Cove staple continues to provide fantastic opportunities for camaraderie and coastal exploration, even after more than 150 years of operation.
4. Hit the water at Paradise Beach State Park
A stunning 19-acre green space tucked away on the shores of the Tiburon Peninsula, Paradise Beach State Park is a beloved spot for Belvedere residents. Visitors can enjoy the water by kayaking, canoeing, swimming, or fishing. If you do choose to swim in the waters, be mindful of the tides, as currents can be quite strong.

The park features a relaxing beach as well as a fishing pier that includes a station to clean your catch of the day. If you're fishing from the pier, no license is required, but you will need a valid fishing license to fish from the shore, so make sure to look into this prior to arriving.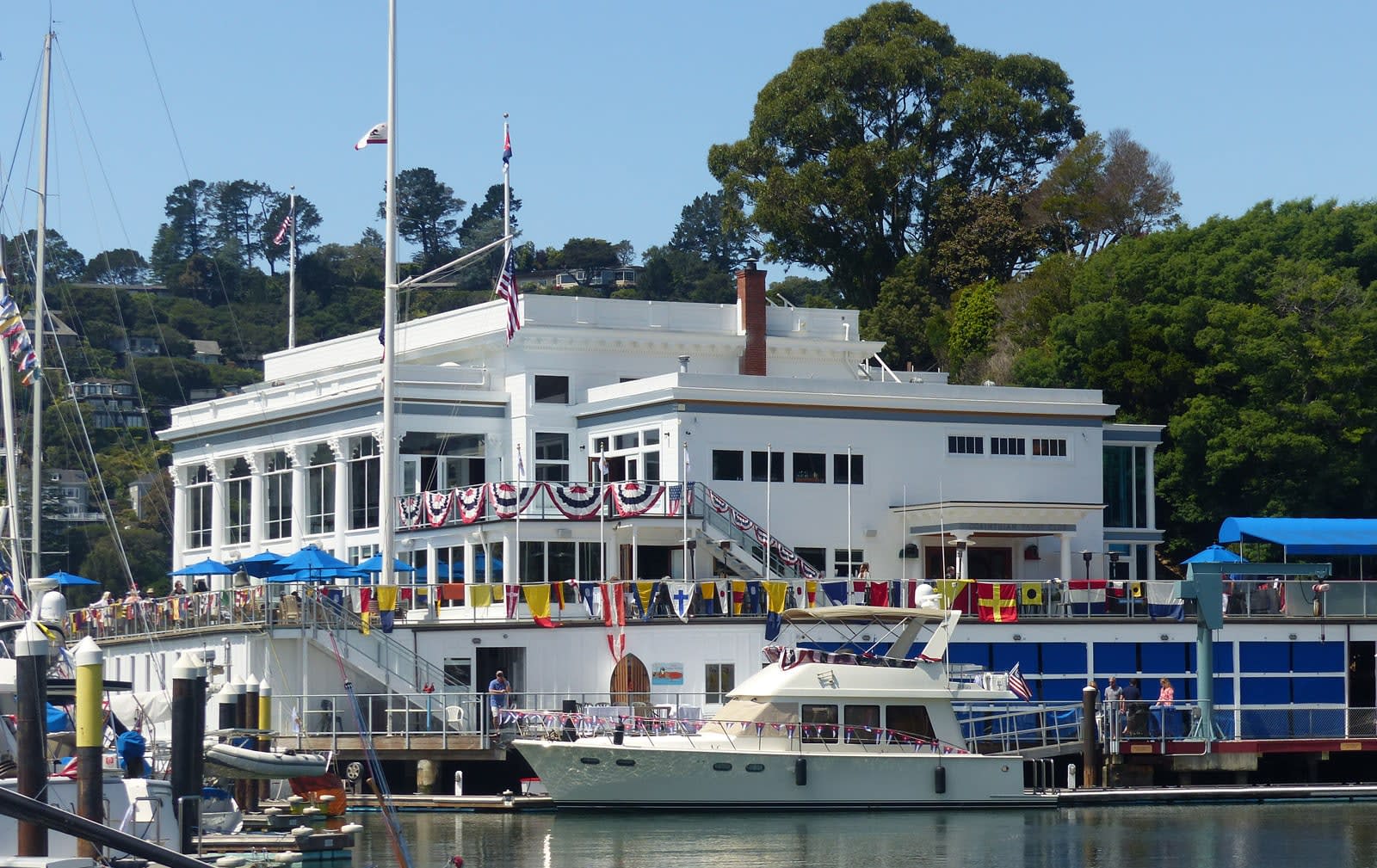 (credit: Corinthian Yacht Club)
5. Enjoy fantastic waterfront dining
Belvedere is home to some beautiful restaurants along the waterfront where you can relax, dine on delicious gourmet meals and soak in amazing views. Sam's Anchor Cafe is a popular choice with Belvedere residents for brunch — you can even enjoy Sail Up Service, arriving by boat and tying up to the pier! Sam's offers an outdoor patio where diners can bask in the sun, enjoying treats like fresh crab benedict with a decadent hollandaise sauce or brioche french toast topped with maple whipped cream. Sam's Spiked Slushies are also a popular choice, and if you're here for an outing with friends, you'll definitely want to try a Drink Bowl, available in Aperol spritz, prickly pear margarita, or pink lemonade.

If you're craving some fresh and high-quality Italian seafood, Luna Blu is the choice for you! The waterfront patio is comfortable and offers a gorgeous, romantic atmosphere that's perfect for a date night. The daily menu uses seasonal produce that's fresh, organic, and locally sourced from the Monterey Bay area. Luna Blu's most iconic dishes include eggplant parmigiana, a delicious grilled eggplant dish topped with mozzarella, green peas, basil, parmesan cheese, and tomato sauce. Diners also love the fresh and delicious salmon piccata, a seared wild salmon filet with white wine, capers, and lemon sauce.

Coming soon to Tiburon's Main Street is Malibu Farms. This esteemed Malibu establishment is certain to make a splash in Tiburon with its organic, Californian cuisine and fresh, inventive fares. At The Caprice, you'll pair your outstanding meal with a side of breathtaking bayfront views overlooking the Golden Gate Bridge in the distance. This is the perfect spot for a night out on the town! Post COVID-19, this local hotspot is currently undergoing a remodel that will retool its menu into something new and fabulous.
6. Hike along the waterline
The Belvedere area offers some fabulous hiking and walking opportunities that lead along the waterfront, allowing you to enjoy stunning views during your morning workout.

Trestle Trail is one of these popular walking spots, a 600-foot concrete walkway that was designed to resemble a railroad track, which serves as a tribute to Belvedere and Tiburon's railroading legacy. The trail is lined with viewing benches where you can pause to take in the sights and informative placards filled with exciting anecdotes regarding local history.

If you choose to pack some snacks or a lunch, the trailhead boasts several picnic tables where you can stop for refreshment. There's also a regularly maintained two-acre meadow that blooms each summer with a colorful burst of California wildflowers, including lupine, poppies, and yarrow.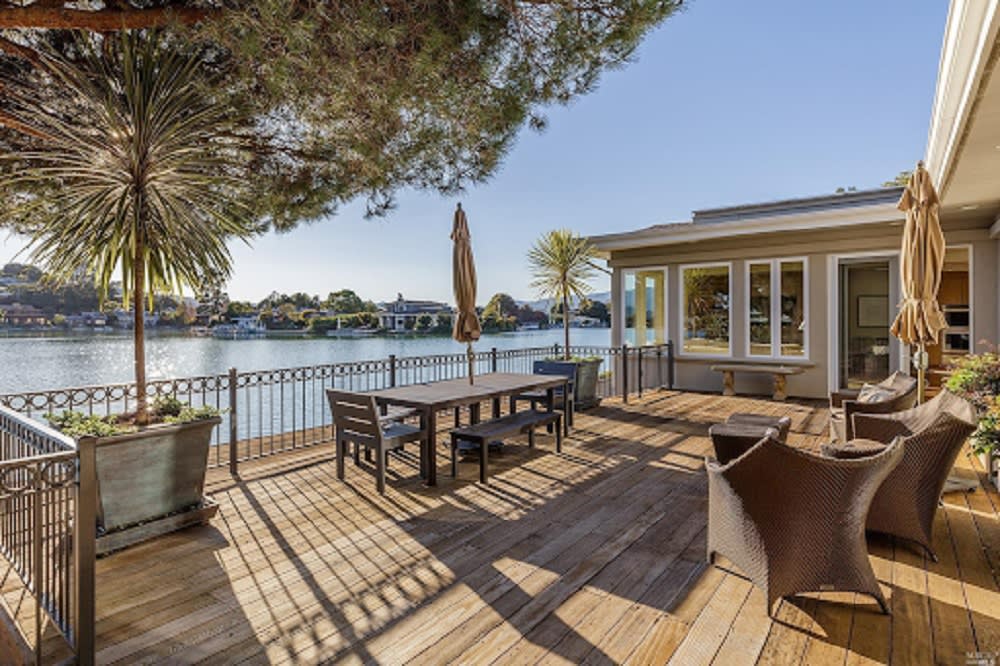 7. Explore the Belvedere Lagoon
Located at the heart of Belvedere, the beautiful blue Belvedere Lagoon is a favorite of local residents. The lagoon is located between the Tiburon Peninsula and Belvedere Island, a man-made natural lowland that was filled in during the late 1920s. Belvedere locals love spending time on the water during some fun community events like block parties and holiday celebrations, soaking up the sun, and enjoying gorgeous views of the surrounding area.

Swimming, sailing, and windsurfing are popular activities on the lagoon, and residents may also use manually powered watercraft like rowboats, canoes, paddleboats, and paddleboards. Residents can also enjoy fishing in the lagoon, a popular Bay Area pastime. Due to concerns over swimmer safety, power-driven watercraft like motorboats or pontoon boats are not permitted.

Even without the use of these types of boats, residents still have a blast enjoying all that the lagoon has to offer. Sailboat races are common occurrences on the lagoon, which are fun to participate in and to watch from land. Locals with property that faces the Belvedere Lagoon adhere to a "good neighbor" policy, keeping noise levels down so that it doesn't disturb other residents' enjoyment of the lagoon; this exemplifies the community spirit that is so special about Belvedere.

About 280 families reside on waterfront property around the Belvedere Lagoon, enjoying gorgeous water views and easy access to fun water activities. Many of the homes surrounding the lagoon were built in the 1950s, but a good number have been upgraded or rebuilt completely.
Searching for gorgeous waterfront Belvedere homes for sale? Contact the knowledgeable and experienced Sarkissian Bullock Team today. Our esteemed luxury real estate agents will be happy to help you navigate the market for Belvedere waterfront property and find the home of your dreams.